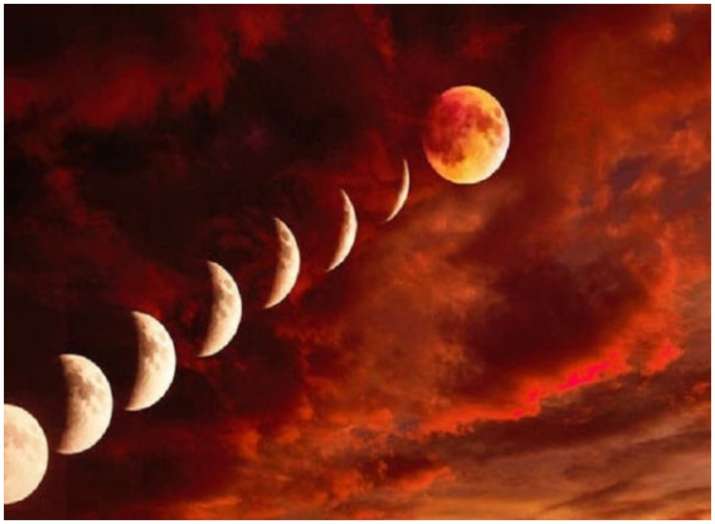 You'll get here all the latest updates here on Lunar Eclipse/ Super Blood Wolf Moon -India timings, dates, and how to watch Chandra Grahan live!
What is a Lunar Eclipse or Super Blood Wolf Moon?
According to space.com, lunar eclipses occur when Earth's shadow blocks the sun's light, which otherwise reflects off the moon. There are three types -total, partial and penumbral -with the most dramatic being a total lunar eclipse, in which Earth's shadow completely covers the moon.
The lunar eclipse is also being called as a Super Blood Wolf Moon. The next lunar eclipse will be a total lunar eclipse on January 20-21, 2019 which will start at 7.34 pm Pacific Standard Time on January 20, which converts to 9:00 am IST (January 21).
Where will Lunar Eclipse 2019 be visible?
According to National Aeronautics and Space Administration or NASA, if the skies are clear the eclipse will be visible across countries including North America, South America, Greenland, Iceland, Ireland, Britain, Norway, Sweden, Portugal, France and Spain. The rest of Europe and Africa will also get a glimpse of the Super Blood Wolf Moon. The Super Blood Wolf Moon will not be visible to people in India and other Asian countries.
Giving a piece of information to our readers, NASA is not running any official live stream for the lunar eclipse for our witness.
How long will the total lunar eclipse last? 
The total lunar eclipse, which is also being called as a Super Blood Wolf Moon, will last around one hour and two minutes. This is peak eclipse or the greatest eclipse period, which is when Moon comes closest to the axis of Earth's shadow.
The entire eclipse will start at 7:34 p.m. PT and last till 10.50 pm PST and this includes partial and total eclipse. The peak eclipse will start at 8.41 pm PST and end at 9.43 pm PST. For India, this comes to 10.11 AM on the morning of January 21 and ending at 11.13 am IST on January 21.
How to watch Lunar Eclipse 2019?
Lunar eclipses are among the easiest skywatching events to observe. Simply go out, look up and enjoy. You don't need a telescope or any other special equipment. However, binoculars or a small telescope will bring out details in the lunar surface, moon watching is as interesting during an eclipse as any time.
For all the latest Lifestyle updates, check out our Facebook page!