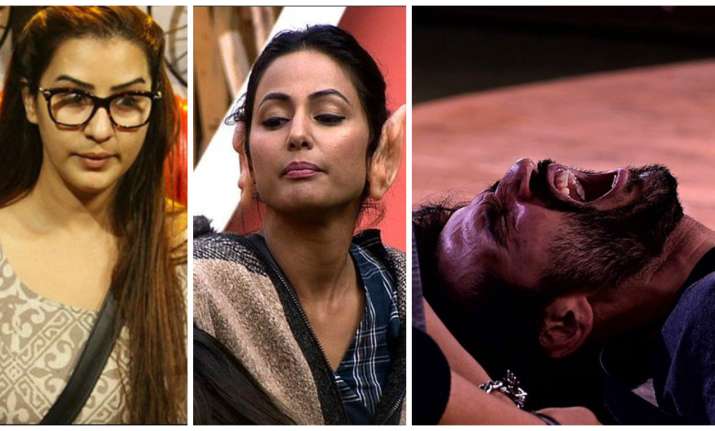 As contestants are decreasing in number, the emotional attyachar and the drama inside the house are escalating. With each passing day, the cut throat competition among contestants is keeping the viewers on the edge of their seat.
After Luv Tyagi, Puneesh Sharma and Bandgi Kalra get nominated this week, the house is all set for luxury budget task. The day starts with Arshi and Shilpa accusing each other for wasting food. While Akash instigates them, Vikas and Bandgi ask Shilpa to give up her kitchen responsibilities. Hina takes over the charge. And now comes the luxury budget task which is a battle between giants and dwarfs. The dwarf team has to torture giant team until the bell rings. If the giants give up, it is a point to dwarfs and if they don't, then it is point for them. Priyank and Vikas are the moderators. Hina, Arshi, Luv and Akash are in the dwarf team while Hiten, Shilpa, Bandgi and Puneesh are the giants.
Hina cuts her own hair and pretends that she has chopped Bandgi's hair. Despite of keeping her eyes closed, chilli powder gets into Bandgi's eyes. Dwarf team refuses to help her asking her to ring the bell but Vikas intervenes. He helps Bandgi wash her face.
Vikas bans dwarf team from using chilli powder but Shilpa becomes the second victim. Everyone put lipstick on her face and Hina threatens to chop Shilpa's hair. Hina starts feeding chilli powder to Shilpa but she doesn't give up. Giants win the point.
Puneesh is next who gets waxed. Akash shaves his head. Instead of torture, he manages to stay till the bell rings. Next is Hiten whose legs get waxed. Hina and Luv does the waxing. Akash deliberately pulls off wax strip in wrong way so that Hiten can feel the pain but he wins.
Stay tuned to this space for all Bigg Boss 11 updates