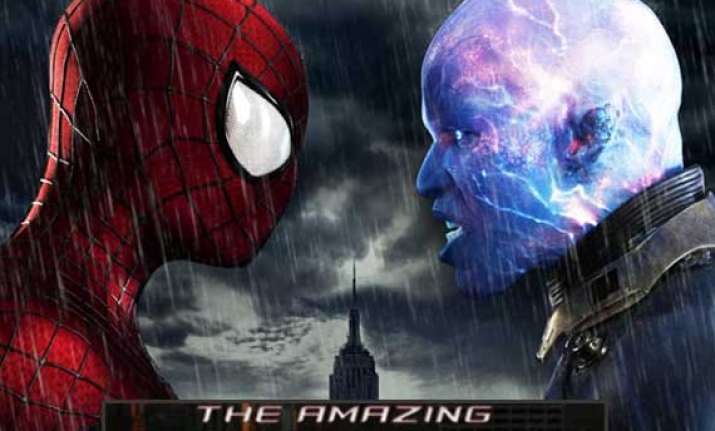 The Amazing Spider-Man 2 has too much of everything. It is over treated with unnecessary stuff.

Stars- Andrew Garfield, Emma Stone, Jamie Foxx, Dane DeHaan, Chris Cooper, Campbell Scott and Embeth Davidtz
Director: Marc Webb
Spider-Man has been undoubtedly one of the most successful superhero franchisee and director Mark Webb wants to make it just better than before. Sure you will be fascinated by this flying creature in support of his web demolishing his companions but the over doze of everything will leave you in a big psychological pain.
The Amazing Spider-Man 2 has too much of everything that doesn't mean it permits you to expect a wholesome entertainment. The director tries to insert numerous characters, mostly villains to amaze you, which is clearly an attempt to overcome the bad scripting which is stuffed with numerous sub plots and unresolved emotional connection.
The story starts from a flashback demonstrating the mysterious vanishing of the scientist Richard Parker (Cambell Scott) and his wife Mary (Embeth Davidtz). Cut to the present day we have their son Peter Parker (Andrew Garfield) aka superhero Spiderman fighting a Russian gangster Aleksei Systsevich (Paul Giamatti) from stealing a truck full of plutonium.
Poor Peter, bind with his duty to fight against crime, is late for his own graduation, including the commencement speech of his girlfriend Gwen Stacy (Emma Stone). He finally breaks up with her just because of a promise he made to her father that he will keep her away from his life of crime fighting.
With first villain we come across is a Gwen's colleague Max Dillon aka Electro (Jamie Foxx), a freeze electric machine. He only becomes so in order to avenge his estranged pal spidey who gets him shot after he becomes Electro.
In order to fight, Parker meets his 10-year old friend Harry Osborn (Dane DeHaan), who's becomes head of the mega-corporation Oscorp in the wake of his own father's death. Desperate for a cure to the degenerative — and hereditary — disease responsible, Harry discovers that Peter's father developed a pioneering serum that could save his life. Spiderman appears to be the beneficiary of the serum, but when Peter refuses to put Harry in touch with the crime fighter the two friends become enemies, and Harry teams up with Electro to take his revenge.
What most falls in this flick apart from a predictable story line is the weak script written by Alex Kurtzman, Roberto Orci and Jeff Pinker. The numerous sub plots are the loose threads hanging unnecessarily.
Nothing best comes out of the talented actors who are queued up to play their part and vanish thereafter without leaving an impact.
While we already have two supervillains in the name of Electro and Harry, there comes back Aleksei Sytsevich, who this time is a giant heavily armed robotic Rhino to settle old scores. It all goes waste.
Parker's chemistry with Stacy doesn't take off as they keep struggling from their personal commitments. Though, their emotional scenes delve well but we least care about their togetherness.
The action department has everything which you could expect from the franchisee. Cinematographer Daniel Mindel's work is brilliant. These frames seamlessly merge with the computer generated images and are layered well. But all that come mostly like a clip attached one after the other.
The result is franchisee without sincerity. Most of the time seems that Webb capitalizes over name and the goodwill the franchisee but it ends up mostly like Batman & Robin-style scenery chewer in a Batman Begins era.
The background score and music by Hans Zimmer is energetic and brisk and could be separated form his archive works.
Among stars Andrew Garfield fits in his character's natural awkward still serious goofiness. He is playfully charming while romancing his real-life girlfriend Emma Stone on screen and at the same time he touches your heart in the powerful scene with Sally Field who plays his aunt May.
Emma Stone shows delicacy into her character and brightens the screen with her scenes with Parker. Dane DeHaan is exciting as young damaged and arrogant billionaire who is frail but still is mean.
Jamie Foxx, in his unsophisticated avatar is impressive. But unfortunately his impact along with all the other the characters in the film have a little charm because all of them are highly classified villains but without any deepness.
The Amazing Spider-Man 2 has too much everything. It is over treated with unnecessary stuff.