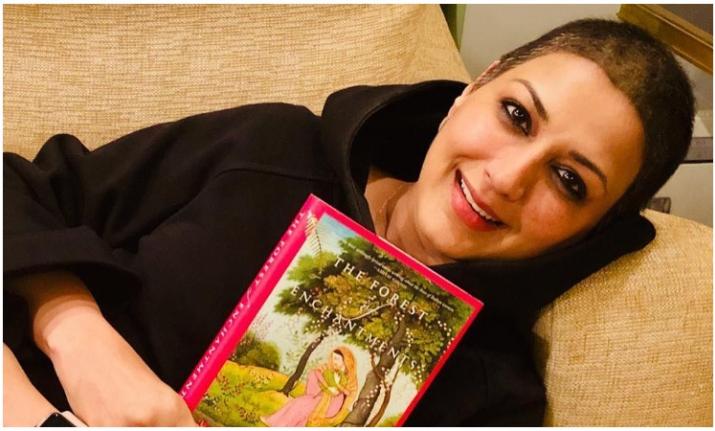 Bollywood actress Sonali Bendre, who is back in India after her cancer treatment in New York, is all set to face the camera once again, Calling it a surreal feeling, the actress shared a beautiful picture and a video of her return to the glamour world. Sonali took to Instagram and shared a heartfelt message on returning to the set after such a long time.
In the latest post, Sonali Bendre shared a gorgeous picture and a video with a heartfelt caption that read, "Being back on a set after a major sabbatical – one that has been testing in many ways on so many levels – is a surreal feeling. After all this, I sort of feel an additional sense of purpose and meaning and I'm so grateful to be back in action. I don't think words would do justice to how beautiful it feels to be back at work...to face the camera again and portray the range of emotions required. Given that my emotions have been running high for the last couple of months, it feels good to give into the emotions that the job requires. It's just the kind of day that helps me #SwitchOnTheSunshine #OneDayAtATim".
In July 2018, Sonali Bendre opened up about her fight with cancer saying 'taking this battle head on' and also described the diagnosis as 'unexpected.' "Sometimes, when you least expect it, life throws you a curveball. I have recently been diagnosed with a high-grade cancer that has metastised, which we frankly did not see coming," read an excerpt from her lengthy Instagram post.
Waving goodbye to 2018, Sonali shared a number of pictures and wrote, "Throwback to my last blow-dry before I cut my hair. Now that my hair is gradually growing back.... Maybe I can look forward to another blow-dry in 2019! This journey has been immense, and has taught me so so much".
Sonali Bendre is taking everything that life has thrown upon her with a pinch of salt. Even cancer can't bend her optimistic and never-say-die attitude. Ever since she has been diagnosed with high-grade cancer, instead of dropping the curtains, the actress chose to chronicle her journey through recovery on social media.
More stories and picture galleries
For all latest news and updates, stay tuned to our Facebook page