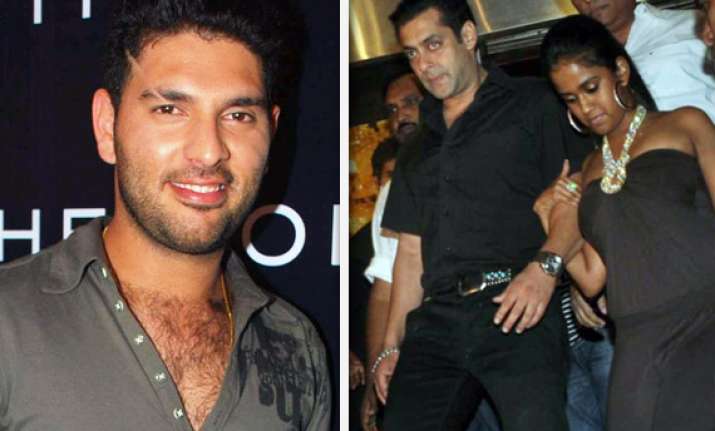 Mumbai, Aug 31: Yuvraj Singh is not one to get flummoxed easily. His cool, calm demeanour comes in very handy on the field. But what is it about him that wins him so many friends? And that too with leading hotties of Bollywood. In the past, Yuvi has managed to fuel link-up stories with Deepika Padukone, model Aanchal Kumar, Ameesha Patel and Neha Dhupia.

And he was reportedly in a relationship with Kim Sharma.

Now, the cricketer was spotted at a South Delhi hotel with none other than Salman Khan's younger sister, Arpita, reports Mumbai Mirror.

"Arpita knows Yuvraj for some time now. They are very close friends. Yes, they were together at the five star hotel in south Delhi on Sunday. They were there for quite sometime, actually," a close friend of Arpita's told the tabloid.

Yuvi made his way into the Khan family after he moved to Mumbai in 2009. He was frequently pictured at family functions and film screening with the family. He grew close to Arpita and the two have been friends for a while now.

"Yuvraj and Arpita were seen together at a five star hotel in Chanakyapuri, New Delhi on Sunday evening. The hotel has a new club, which opened recently. Yuvraj and Arpita spent a lot of time in the club that day. They were not accompanied by others," confirmed another source.

But Singh denies even being at the hotel.

"This is absolutely baseless and I request everyone to stop spreading rumours about me. Arpita is a friend and I know her for many years now. As a matter of fact, I wasn't at the hotel at all lately. There is not an iota of truth in what you are trying to write," said Yuvraj Singh, when contacted by the tabloid, while Arpita remained unavailable for comment.

Wonder what's cooking...