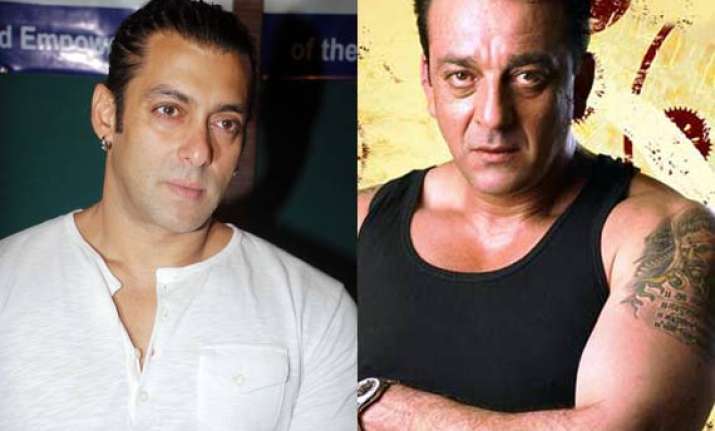 After almost coming to blows with filmmaker Bunty Walia, Dabangg actor  Salman Khan also had a spat with his old pal Sanjay Dutt, reports Mumbai Mirror.
At Maanyata Dutts birthday bash on Thursday night,it turned out that the actor had a fight not only with filmmaker Bunty Walia,but also got into an ugly exchange of words with host Sanjay Dutt.

Salman had almost come to blows with Walia soon after reaching the party venue at around 2 am.  Dutt,who at that time had stepped out to see off Fardeen Khan, sensed the tension when he saw Walia leave the party in a huff.

Feigning ignorance of what had transpired,Dutt returned to the party and bonded with Salman,who has been his friend for 20 years.

The two danced together on the dance floor as well, said a source present at the party.  But soon the dancing and camaraderie melted away.

They started talking loudly, and it became a fullfledged argument, with Sallu's voice rising a notch too high.

The source said that Dutt appeared shocked to see Salman in such an aggressive mood.
 
Another source revealed that the row had erupted over Dutts acceptance of a role in Shah Rukh Khans film,while having declined Salman's request to do a small role in one of his (Salman's ) films.

Salman had asked Dutt to play the role of his father in Bodyguard.  The role is now being played by Raj Babbar.
 
The bone of contention was Dutt making a special appearance in Shah Rukh Khans film Ra.One.

At the party, a miffed Salman broached the subject with Dutt over not playing the role in Bodyguard, the source said.
 
Subsequently,as tempers cooled and better sense prevailed,  Sanju gently yanked Salman aside, and dragged him to the basement of the building.

The two had a chat for about a couple of hours, the source said, and ironed things out.

Salman left Dutt's home early in the morning. Tough they made up, on Saturday afternoon,  as Dutt and Salman shot for a promo of Bigg Boss at Filmistan Studios, the tension in the air was palpable, the source said.

The two will co-host of Bigg Boss,which goes on air in a next couple of months.