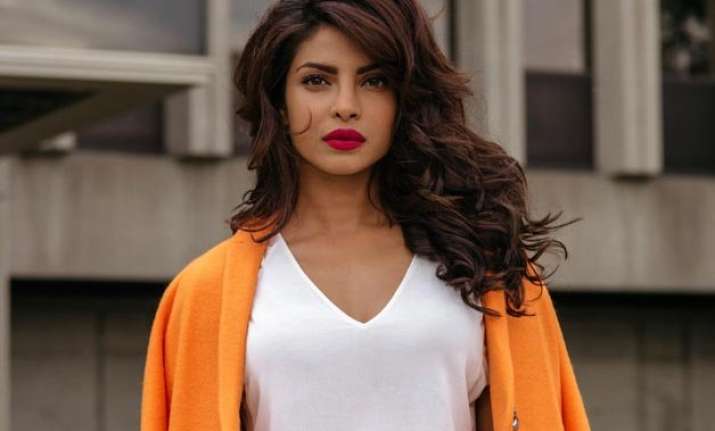 New Delhi: Bollywood actress Priyanka Chopra is on cloud nine these days especially because of her professional growth. The diva is bagging a lot of appreciation for her latest release 'Bajirao Mastani'.
Priyanka Chopra is achieving fame not just in India but across the world as well. The actress has made her debut in Hollywood with American TV series 'Quantico'. She is playing the role of an FBI agent Alex Parrish in the show.
While 'Quantico' is doing really well, the show makers have decided to not just extent the show to 22 more episodes but it has also been dubbed in 44 languages.
Priyanka, who is being praised for her performance in 'Qunatico', says she was worried to do the series as she was scared if Americams will accept her as an Indian-American. While talking to a leading daily, she said , "Alex Parrish as a character for me was hard to do because I am an Indian-Indian not an Indian-American. Going into another country and presenting to them a show which is on my shoulders was challenging. Initially I was very scared of how I would be accepted. Playing an Indian girl with an American accent was tough."
Priyanka also added, "From March this year it's going to be season 1. We were supposed to have 13 episode but it's done really well, we have gone to around 100 territories around the world, dubbed the show in 44 languages including Spanish, Italian, German, SE Asia, so it's become a really big show which is why ABC has extended it to 22 more episodes for one season."
The Bajirao Mastani actress will soon head to the US again to shoot for those episodes. She adds that the show from March gets much better and even more confusing. Priyanka elaborates, "The twists and turns are unbelievable. I have only read till episode 14 and now they are writing as they go along to how people react to the characters. Alex will also change. There will be a lot that happens to her because of what has happened to her. The second part in March will start with when Alex is back with the FBI."
Created by Joshua Safran, 'Qunatico' is about an FBI recruit, who is suspecting of committing a terrorist attack. The show has received favourable reviews from the critics.