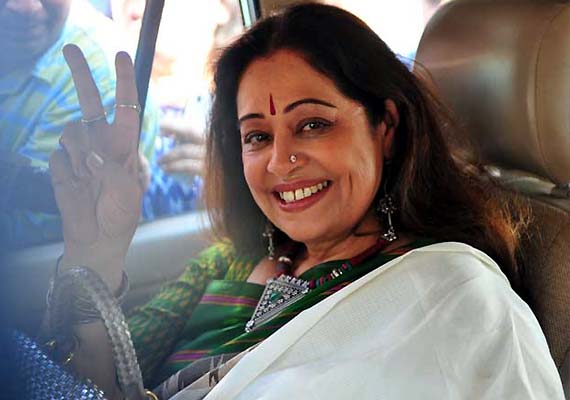 Chandigarh: Actress-turned-politician Kirron Kher today said she is planning to get a Media and Film City for Chandigarh.
"I am trying to bring a hi-tech Media and Film City in Chandigarh, and this may happen soon. Chandigarh has tremendous untapped potential as a Film City to cater to the Punjabi and Bollywood film industry. Presently, the directors have to go all the way to Mumbai to get sound mixing, editing, dubbing, special effects and other processes done to get the final output," Kirron, BJP's Lok Sabha MP from Chandigarh, said here.
"If we have a full-fledged film city here, it would save the directors from a lot of transportation costs and booking troubles. Further, it will boost Chandigarh's economy by creating huge employment as also will bring Chandigarh on national and global map as a preferred filming and shooting destination," 60-year-old Kirron, wife of noted actor
Anupam Kher
, said.
She was addressing media persons here after releasing "Pollywood Directory". The directory has the contact and other details of those related to Punjabi film industry. It is an initiative to organise Punjabi Cinema.
After being elected as BJP MP from Chandigarh this year, Kirron said she finds little time to do films.
"I have almost forgotten that I have a relationship with film industry as most of the time political meetings, attending Parliament and meeting people of my constituency has been consuming my time," she said.
She said recently she had to refuse doing three films which came her way because she would not have been able to devote time to the ventures.
However, she was committed to doing TV show-- 'India's Got Talent', she pointed out.
Kirron also said that she was proud of the fact that earlier this year she had managed to do a film-- 'Punjab 1984' -- which had done so well and had been widely appreciated.
"I am proud of the fact that the Punjabi film industry is growing," she said.
Asked if there should be a separate Censor Board for the Punjabi film industry, she said, "I think the CBFC is just fine. However, I feel that the CBFC should function more as a certification Board rather than a Censor Board".
Speaking on the occasion, Punjab BJP leader Vineet Joshi said that Punjabi film industry has come a long way and in recent times there has been a boom in the region's film industry.
He also said that Punjab had and was contributing to the Bollywood film industry and most of the actors including Dharmendra, his sons Sunny and Bobby, Om Puri, the Kapoor family,
Akshay Kumar
, among others had made their mark in the Hindi film industry.
"The latest success story is that of stand-up comedian
Kapil Sharma
, who hails from Amritsar," he added.