Follow us on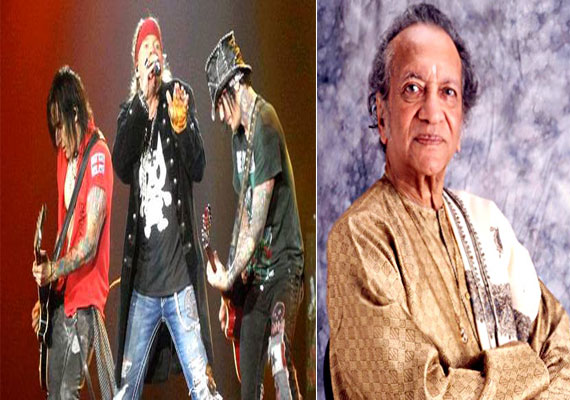 Gurgaon, Dec 13: American rock band Guns N' Roses dedicated their Delhi performance to sitar maestro Pandit Ravi Shankar, who passed away Wednesday.
The band's lead singer Axl Rose talked about the sitar legend during the concert last night and said, "We dedicate this show to Pandit Ravi Shankar, who passed away today."
Three-time Grammy winner Ravi Shankar, 92, underwent a heart-valve replacement surgery at the Scripps Memorial Hospital in La Jolla, California where he breathed his last.
Notorious for being late for their performances across the world, Guns N' Roses surprisingly started their show on time.
During their three hour non-stop performance the band belted out old hits like 'Sweet Child of Mine', 'November Rain', 'Paradise City', 'One in a Million', 'Welcome to the Jungle' and 'Think About You'.
Performing in front of 5000-odd people, Rose introduced his mates - Dizzy Reed, Tommy Stinson, Chris Pitman, Richard Fortus, Ron Thal, Frank Ferrer and DJ Ashba - as he took the microphone.
"Hello Delhi, it is a wonderful evening I am happy to be here," he said.
Delhi witnessed its first hard core rock performance after a long time after Metallica's gig was cancelled last year.
With head banging a normal sight at rock shows, fans couldn't stop shouting and dancing at the gig.
"I am a die hard fan of the band and had booked the passes a month back. I am so happy they have come to India.
They are amazing," said a college student.
Guns N' Roses was formed in 1985 and had Rose and guitarist Slash as its most famous faces. However, Slash parted with the band because of an alleged feud with Rose.
Rose is now the only original member remaining. The band has already performed in Bangalore and Mumbai before last night's show here.