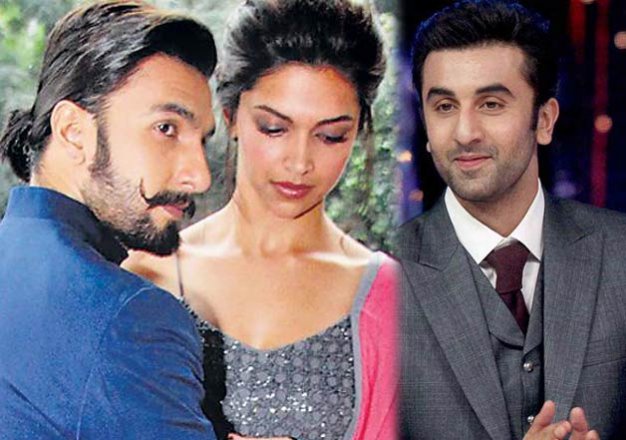 New Delhi: Deepika Padukone and Ranveer Singh look like one such inseparable couple in B-town for whom love is everything. Their latest outing in 'Bajirao Mastani' as the 'soul lovers' expressed why they are made for each other.
However, if we talk about acknowledging the relationship in public, the couple is poles apart. While Ranveer wears his heart on sleeves, Deepika minces her words when it comes to expressing love for her pigsney.
And the reason of this behaviour from Deepika is none other than her ex-boyfriend Ranbir Kapoor. It is shocking but it is indeed true.
Actually, DP is regretful of being open about her relationship with Ranbir in the past and she is just too careful this time with Ranveer.
"It is unlikely that she will come out to acknowledge the relationship in public in the near future. The last time she was very open about her relationship with Ranbir Kapoor and she regrets that. She doesn't want that kind of attention on her personal life again," a source was quoted by an entertainment website.
However, even though we haven't heard from Deepika but we have definitely seen her actions depicting love for Ranveer.
"To be fair, she has always been there for Ranveer, when he was down with dengue or when she joined him during the shooting of Dil Dhadakne Do. Also, in her own way, she is not hiding her relationship. She put up a picture of Ranveer shaving his face after Bajirao Mastani; that is strictly a girlfriend's prerogative. She would not openly bond with his family with cameras all around her during an award function. So while she might not say it in so many words, her actions say it all," the source added.
Recently, everyone saw during the Filmfare Awards how Ranveer (after greeting his parents) touched the feet of Deepika's parents, and how Deepika too, after hugging her parents and went on to hug Ranveer's parents before accepting her trophy.
It would not be an exaggeration if we say that in this season of break ups Ranveer Singh and Deepika Padukone's relationship is one shining beacon of light in the B-town.