Follow us on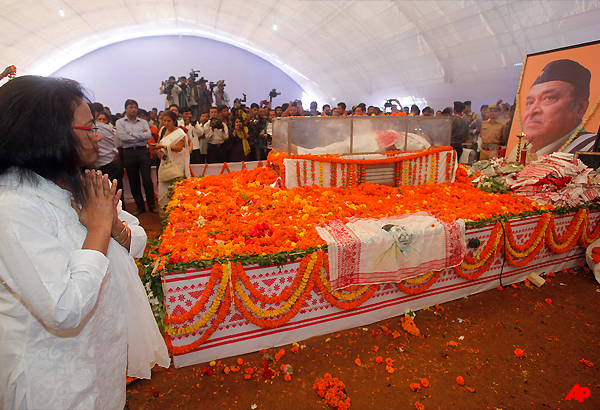 Guwahati, Nov 9: A tearful Assam bid adieu to its cultural icon, Bhupen Hazarika, as his last rites were performed this morning with a sea of humanity descending on the Gauhati University campus to witness it.

Hazarika, who passed away in Mumbai on November 5 at the age of 85 after a prolonged illness, was cremated with full state honours. A 21-gun salute was given by the Assam Police to the legendary musician and film-maker.

Following the state honours and usual rituals associated with the last rites, Hazarika's mortal remains were consigned to flames by his son Tez at 10.20 AM, while the singer's 40-year-old companion and filmmaker, Kalpana Lajmi, prayed.

In fact, Hazarika's body draped in the traditional gamosa reached the campus around 10 AM from the historic Judges Field -- a 15-kilometre-journey, and final tributes were paid by the state Governor JB Patnaik and Chief Minister Tarun Gogoi.


People from all walks of life, young and old, and from across the North East had thronged the area since Monday night to pay their last respects to the Dadasaheb Phalke award winner.

The gates were closed at 5 AM today to allow his family to spend a few minutes with him before he began his final journey to the university.

At the funeral site, wreaths were placed by Union Minister in-charge of Development of North Eastern Region, Paban Singh Ghatowar, on behalf of Prime Minister Manmohan Singh, and Congress General Secretary Digvijay Singh on behalf of UPA Chairperson Sonia Gandhi, and by BJP leader in Lok Sabha, Sushma Swaraj.

After the last respects were paid, Hazarika's body was taken out of the casket and transferred to a bamboo bier, and his son and nephews carried him on his final journey to the sandalwood pyre.

About 70 kgs of sandalwood, collected from the university Botanical Garden, were used for the pyre. After lighting the pyre, Tez knelt and bowed to the people with folded hands thanking them for their love and respect for his father.


The Chief Minister also placed a sandalwood on the pyre. In fact, Hazarika's last rites were to be performed on Tuesday, but the government postponed the ceremony by a day in the wake of a huge demand from the public who came out in their thousands to pay their last respects to the late singer.

His versatility saw him excelling in every field stamping his unique individual identity on each genre he delved in. But his main contribution lay in catapulting the remote North East on cultural centrestage both at the national and global level.

Hazarika, whose baritone voice enthralled and mesmerised millions of fans, reached creative heights which few in the North East region could aspire to and was single-handedly responsible for giving the region's cultural heritage the due place it deserved in the national arena.

Crowned with awards galore and regarded as a modern day "Balladeer", Hazarika's immemse contribution to the field of music and films received widespread recognition with his art appealing to the old and new alike as more than three generations have grown up listening to his music.

"Bhupenda", as he was popularly called by old and young alike, claimed that music was his first love although he excelled on a much wider cultural mosaic.