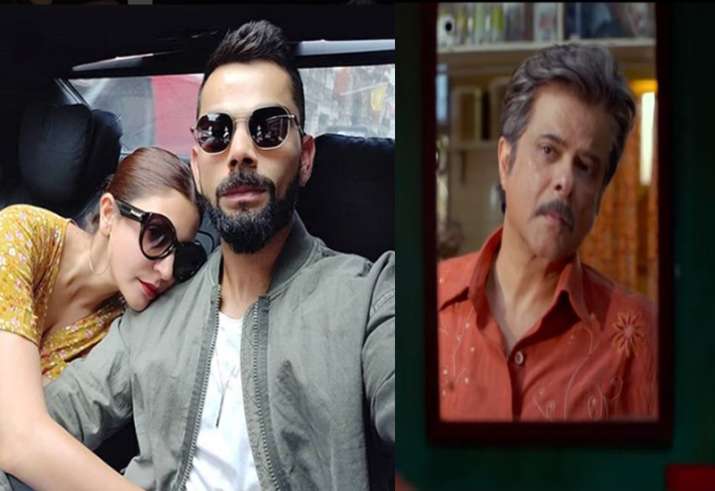 Celebrity couple Anushka Sharma and Virat Kohli were spotted enjoying a dinner date in England. Meanwhile, Anil Kapoor is impressed with legendary singer Lata Mangeshkar's reaction for his song titled Achche Din from his forthcoming film Fanney Khan. 
Anushka Sharma and Virat Kohli enjoy dinner date in London, see pics
One of the most adorable and loved celebrity couples, Anushka Sharma and Virat Kohli never leaves any opportunity to cherish the moment whenever they are together. Indian skipper Virat and Bollywood actress Anushka are currently in England and are perfectly managing to spend quality time together. The couple also gave us a glimpse of their vacation by sharing number of selfies and pics on social media handle. 
In a latest Instagram post, Virat shared a pic of dinner date with his gorgeous wife Anushka. Captioning the pic, Virat wrote, '' Meal with the bestest!'' Interestingly, the couple is looking adorable in casual attires. In the selfie shared by the star cricketer, Anushka can be seen donning a loose, white t-shirt while Virat is looking dapper in his baby pink t-shirt. 
Anil Kapoor on Fanney Khan song Achche Din: I am overwhelmed by Lata ji's response
Legendary singer Lata Mangeshkar today wished luck to Anil Kapoor for his upcoming film "Fanney Khan" and the actor said that the icon's response to the recently released song from the movie, "Achche Din", is "overwhelming".
The 61-year-old actor, who plays a musician in the Atul Manjrekar-directed movie, said he had sent the song to Mangeshkar's niece just to get her views on the music of the film and the fact that she liked the song means a lot to the whole team behind the project.
"I have been Lata ji's huge admirer since always. My entire family admires her. In the industry, she is the most respected person. When I heard 'Achhe Din', I felt after a longtime there was a song in which everything was coming together. I just instinctively sent the song to Lata ji's niece (Rachna),'' he said. 
Namaskar. Anil Kapoor ji ek guni abhineta hain. Mere Anil ji aur Boney ji ke saath bahut acche aur pariwarik sambandh hai,une mata aur pita ji se bhi mere acche sambandh the. Main Anil ji ki nayi film ko bahut shubhkaamanayein deti hun. https://t.co/FLWF0IUJXt

— Lata Mangeshkar (@mangeshkarlata) July 20, 2018
"It was really sweet of her that she tweeted the song. It means a lot. And when I called to thank her for the tweet she said, 'Take your words back. Don't thank me. You are a family.' She has always been our well-wisher. She has always been very supportive, encouraging and inspiring. I am overwhelmed by her response," Kapoor said. 
Shabana Azmi: Filmmaking process has developed
Veteran actress Shabana Azmi said that the filmmaking process has developed in the country which she considers to be the best thing that has happened to Indian cinema. Shabana had a candid conversation on 92.7 BIG FM where she spoke about acting workshops, importance of scripts and a host of other engaging topics, read a statement.
"What is good about today's movies is that there are acting workshops organised with an intent to bring a familiarity between the actors and characters which is essential for any film," Shabana said.
"This also helps the actors in understanding the director's vision in a proper way. Today, actors have well-researched scripts in their hand which wasn't the case with us earlier,'' she said.