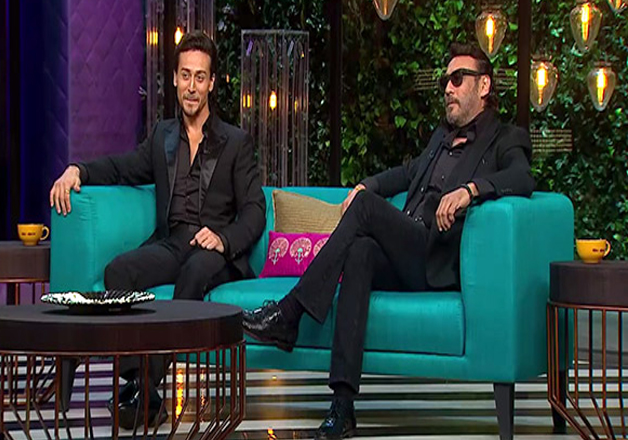 For all those who were thinking that it was going to be awkward for Tiger Shroff to debut on 'Koffee With Karan' with his father Jackie Shroff, the father duo son has proved everyone wrong. From talking about their crushes to sex advice, the last episode of 'Koffee With Karan' was a treat to all movie buffs.
Tiger was rumoured to be dating actress Disha Patni from quite some time. When the director Karan Johar asked him about his relationship status, the shy actor revealed that Disha makes him look better but she is just his good friend.
The show was glammed with the 'bindaas' attitude of Jackie who didn't cease to show his love for actress Madhuri Dixit. He accepted that the lady broke million hearts including his when she got married.
When Jackie was asked about his favourite actor, he took Ranbir Kapoor's name adding that he is also 'Devdas' as his heart keeps breaking every time. Tiger again talked about his crush on actress Shraddha Kapoor.
The father and son are very close to each other and this was evident from the fact when the young actor revealed that during his childhood days Jackie always came from outdoor shoots at night just to meet him.
Ayesha Shroff revealed that during her hard time when she wanted to release her film 'Boom' they had to put their home on lease which they lost. After joining the films, Tiger promised that he will again buy the house for her.
During the rapid fire round, Tiger got embarrassed while saying that he would not take any sex advice from his father.
The next episode of the show will feature Farah Khan and Sania Mirza.