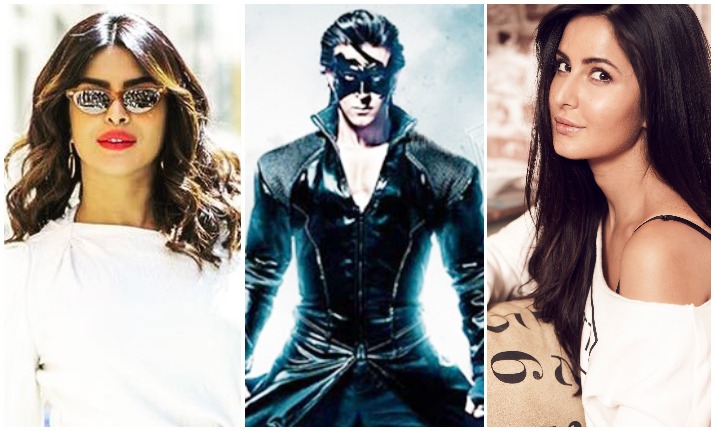 Rakesh Roshan gave a birthday gift to Krrish fans on Hrithik Roshan's birthday by announcing Krissh 4 release date. The superhit franchise will be reviving itself with its fourth instalment, which has locked the date for Christmas 2020 for its release. Apart from the release date, all the other deets of the superhero series have been kept under wraps. Needless to say, Hrithik Roshan will be seen yet again as a masked messiah to protect the world from the prying eyes of evil.
However, director Rakesh Roshan is still unable to confirm the leading lady for Krrish 4. As per a Deccan Chronicle report, the choice has to be made between Priyanka Chopra and Katrina Kaif. Priyanka has already featured in the previous two parts of the film as Hrithik's love interest. At the same time, Rakesh Roshan has a few meetings with Katrina Kaif to discuss the film.
The script of Krrish 4 hasn't been finalised. So the option to have two leading ladies in the film is still open.
"Priyanka's character is already there in the film. It has to be developed further. Alternatively, if there is another heroine, the script has to be modified. What will be interesting to see is if he manages to incorporate more than one girl giving equal space to both," a source was quoted telling the leading daily.
Reports are also suggesting that Hrithik Roshan is going to raise the bar with the fourth instalment of Krrish. He will be stepping in as an antagonist as well apart from playing a hero. Going by these reports, it is believed that Krrish 4 is going to be the biggest superhero movie of Bollywood.
Talking about his ambitious project, director Rakesh Roshan told PTI, "We will rope in international action director for the film. We want to up the scale of action and VFX."