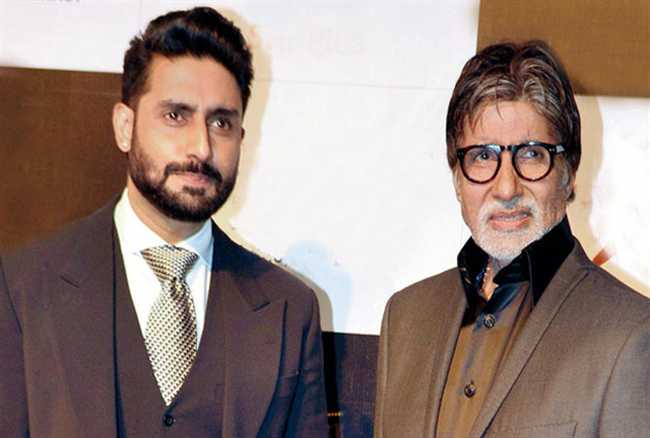 Abhishek Bachchan, who is likely to be seen in Sanjay Leela Bhansali's next venture, shared a throwback Thursday picture today. While the photograph reflects the actor's emotional state of mind, we can't help but feel nostalgic all the way.
Taking to his official Instagram account, the Guru actor posted a childhood picture where he is sharing the frame with father Amitabh Bachchan and his cousins. What catches the eye is the message that Abhishek has penned down. The old photograph was taken when Big B was injured on the sets of Coolie all the way back in 1983. Here's the picture.
The actor recalls as to what a six-year-old Abhishek went through at that time. He then goes on to narrate a few incidents from the time when his dad was hospitalized. "Dad was hospitalised with Mysthenia Gravis and my sister, cousins and I had gone to visit him", said the actor.
Also Read: Amitabh Bachchan's granddaughter Aaradhya gets 'a little afraid' while meeting Big B's fans (in pics)
Calling the photo Big B and the Bunch, the 41-year-old actor further said that he was too young to understand as to what all was going on. "Our parents always made it out to be like an outing so that we would not be disturbed by the hospital and its workings. When I used to visit my father after his accident on the sets of "Coolie" in 1982, seeing him connected to many drips and machines, he used to tell me they were kites that he had got for me. I was 6 yrs old. My father was fighting for his life and all I thought about was... why isn't he allowing me to play with these kites??? The innocence of childhood I guess", Abhishek Bachchan wrote.
Recently, Rohit Roy said that is likely to team up with Abhishek Bachchan for a romantic film to be backed by filmmaker Sanjay Leela Bhansali. There were reports that Abhishek and Priyanka Chopra would be a part of the film. "I am talking to Abhishek for a few things. So let's see what happens. He has shown interest in the project but we are yet to finalise other things," Rohit said in a statement.