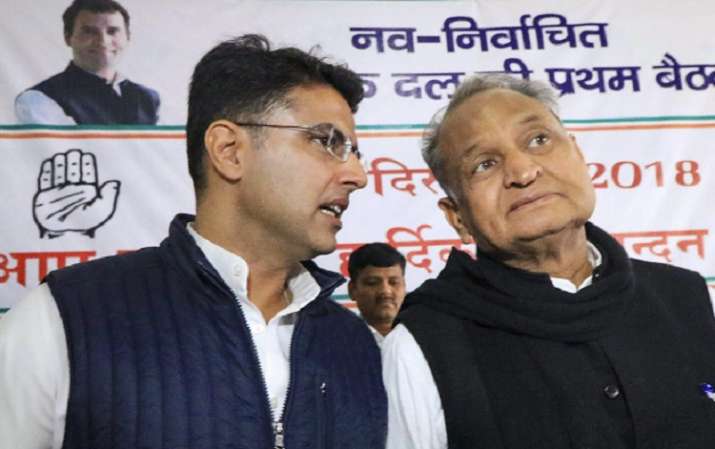 After hectic parleys which continued for nearly two days after Assembly election results, the Congress on Thursday picked Ashok Gehlot to be Rajasthan chief minister.  An official announcement in this regard is expected to be made later in the evening. The decision came after Congress president Rahul Gandhi met both the contenders - Ashok Gehlot and Sachin Pilot - separately in New Delhi. The meeting was also attended by Priyanka Gandhi. According to sources, Sachin Pilot could be made Deputy CM of Rajasthan. 
The individual meetings lasted around 10-15 minutes each and neither Gehlot nor Pilot talked to the media after the meeting. 
Assembly Elections 2018: Full Coverage
Rajasthan Assembly election results were announced on December 11. However, with the Congress not projecting any CM face for the polls, supporters of both the leaders started pushing for their respective leaders for the top post. A meeting of newly elected legislatures in Jaipur on Wednesday ended with any conclusion.  
The Congress appears to have preferred Gehlot over Pilot in view of the mandate it got in Rajasthan, where it has fallen short of legislative majority by one seat in the 200-member Assembly.
The party, however, has the backing of its pre-poll ally Rashtriya Lok Dal (RLD), which won one seat, six Bahujan Samaj Party MLAs and a majority of the 13 Independents, who are mostly Congress rebels. 
Pilot reportedly put up a fight staking his claim to the CM post on the ground that he had galvanised the party after the defeat in 2013, when he was appointed the state party chief.
Meanwhile, preparations are underway at the Raj Bhawan in Jaipur for the oath-taking ceremony. Workers were seen cleaning and colouring the walls of Raj Bhawan located in the city's Civil Lines area.
Though it's not clear when the ceremony will be held, Raj Bhawan officials don't want to leave anything for the last minute and started working on preparations from Wednesday itself.
Ealier, Election Commission officials met Governor Kalyan Singh Thursday to apprise him of the election results.
Congress won 99 seats and BJP 73 seats in the Assembly elections held on December 7.
WATCH: Ashok Gehlot to be Rajasthan CM, says sources