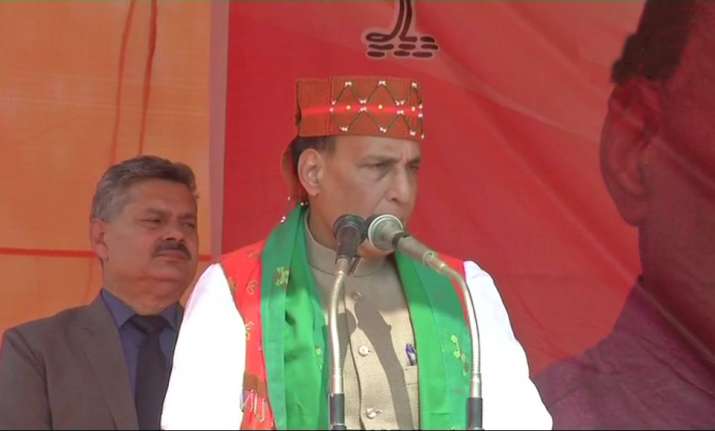 The Congress-led Meghalaya government on Monday came in for criticism from leaders of various political parties, including Union Home Minister Rajnath Singh, over the killing of NCP leader Jonathone N Sangma and others.
Rajnath Singh, who is also a senior BJP leader, said the incident indicated "utter chaos and lawlessness" in the northeastern state while Nationalist Congress Party (NCP) leader Vijaj Raj said it was a "political murder". 
On Sunday night, the NCP candidate along with two supporters -- former Garo National Liberation Army rebel leader Nikam Ch Momin and Cribinath D.Shira -- and bodyguard Shamin Hassan were killed in an improvised explosive device blast in the East Garo Hills district.
"The fatal attack on the NCP candidate is a testimony that the Mukul Sangma government has failed to provide security to Meghalaya residents," the Union Minister said while canvassing for support for BJP candidates Thomas Sangma, Ricky Marak and Santosh R. Marak.
In Shillong, several political leaders expressed shock over the killing and flayed the Congress government for its "failure" to ensure security to all candidates.
The NCP and the United Democratic Party (UDP) demanded a probe by a national agency into the killing.
"The state's Congress government has failed miserably to protect the life of Marak. The government is not taking the security of candidates seriously. We condemn the killing. The National Investigation Agency should probe the killing of the NCP candidate," UDP chief Donkupar Roy told journalists here.
The Hill State People's Democratic Party supremo Ardent Miller Basaiawmoit demanded a thorough investigation and said the killing had created a "fear psychosis" among the the state's people in general and those in Williamnagar in particular.
"The BJP is extremely concerned over violence, specially in the Garo Hills. This is unacceptable. It is an indication of total collapse of law and order under the Congress government," BJP leader Nalin Kohli told journalists.
Condemning the incident, the Congress state unit said violence can never be an answer to any problem. 
The ruling party appealed to the Meghalaya people to remain alert and not allow 'divisive forces' to take advantage of the situation and foment trouble and violence in the name of caste, creed, religion and language.
National People's Party chief Conrad K. Sangma said: "The attack is an assault on democracy and freedom of Meghalaya's people. We will not be cowed down by fear and intimidation. We resolve to continue our fight against violence in all forms and work for peace and development to lift our state from fear and oppression."