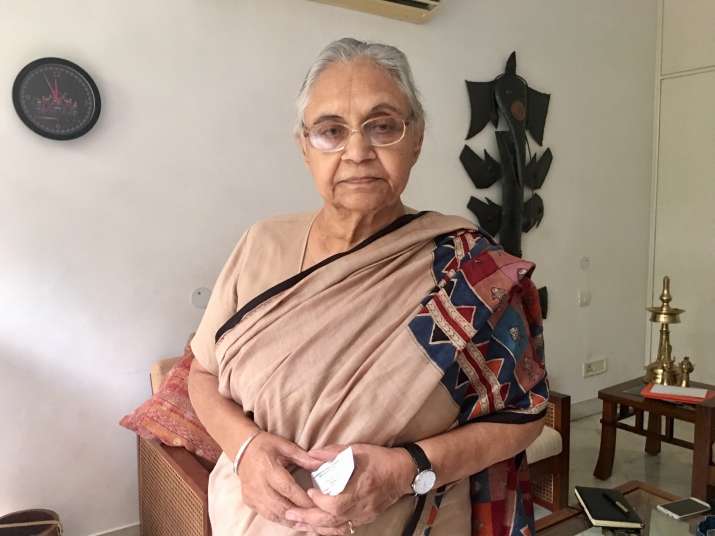 Lok Sabha elections 2019: Less than a year is left when Lok Sabha elections 2019 will take place and activities in the political corridors of the country has gained momentum. The Congress party has intensified its efforts for a grand alliance (mahagathbandhan) of anti-BJP forces. The BJP has also embarked on a journey to make new friends as the party president Amit Shah had recently said in a rally in Tamil Nadu's Chennai that the BJP will make "new friends" ahead of the general elections.
Here's what veteran Congress leader and three-time chief minister of Delhi Sheila Dikshit has to say on the possibilities of anti-BJP grand-alliance and other issues ahead of Lok Sabha elections 2019-
Q1) Congress is trying hard for an anti-Modi grand alliance ahead of next year's general elections. Who will be its leader if the grand alliance becomes a reality?
Sheila Dikshit: The grand alliance talks are going on right now. It will be too early to say who will be its leader or who will be its PM face. This is a decision which needs to be taken collectively. If the decision isn't taken collectively and if there will be differences among its leaders, then grand alliance will be of no use.
Q2) Recently, BJP chief Amit Shah in a rally in South India said the saffron party will look for new friends and will form an alliance. If NDA also plans to form a grand alliance, then how will you deal with this new challenge?
YOU MAY ALSO LIKE TO READ: Monday Talk | 'Outsiders' in party need to be purified from 'Ganga Jal': BJP MP Shyama Charan Gupta
Sheila Dikshit: When they will do it, we will think about it. Because at the moment the BJP is very confident that they will manage everything on their own. So, let us see what happens. And when it does happen then the other parties will react to it.
Q3) When it comes to make alliances in states, Congress is facing resistance from within. For example, in West Bengal one section of the Congress state unit, reportedly, wants to go with Trinamool Congress and other with Left parties. In Delhi too, as per reports, Delhi Congress chief Ajay Makhan does not want to form an alliance with AAP but Rahul Gandhi is yet to take a decision on this. How will Congress deal with it?
Catch all the latest news about Indian politics HERE
Sheila Dikshit: I don't think Rahul Gandhi wants to go with AAP at all. I don't know about West Bengal but in Delhi, the Congress will remain by itself. And we need to work a bit more effectively and that we will do.
Q4) Do you think Delhi should be given statehood?
Sheila Dikshit: No. It can't be given statehood for the simple reason that the Central government stays here and it is the capital of the country. And because it is a capital, it can't be treated as a state. You can't have a capital (of the country) in a state.
Q5) There are rumors that AAP and Congress may join hands. Your comments.
Sheila Dikshit: They are rumours and what can I comment on rumours? There are no chances at the moment.
YOU MAY ALSO LIKE TO READ: Monday Talk: 'Arvind Kejriwal wants control over police,' says BJP's Naveen Kumar on Delhi statehood demand
Q6) How you see the Delhi government's performance in the last 3 years?
Sheila Dikshit: I'm sorry to say it has been very disappointing. They said a lot of things but did nothing. And whatever they are saying they have done, isn't visible. AAP government's work is all words, no action.
Catch all the latest news about Lok Sabha elections 2019 HERE
Q7) Presently, what are the three biggest problems Delhi is facing?
Sheila Dikshit: Delhi is facing the problems of -
A: Cleanliness. The city is getting dirty.
B: Trees getting chopped off. Thank God! It stopped otherwise it would have changed the climate of Delhi drastically.
C: Administrative failure. At the moment there is no peace in the administration. And how you will work in this environment?
Q8) How do you see the Supreme Court's recent verdict involving Delhi government and the L-G?
Sheila Dikshit: Well what the SC said is absolutely right. When you have division, you can only work with coordination. If we fight with each other then nothing will ever get done.
YOU MAY ALSO LIKE TO READ: Monday Talk: 'CM Yogi Adityanath government successfully checked menace of cheating mafia in UP Board exams', says Mahendra Kumar, Dy Director of Education
Q9) Compared to last general elections, how you expect Congress' performance in the upcoming Lok Sabha elections 2019?
Sheila Dikshit: I'm sure the Congress will do well because the expectations from the BJP have not been up to the mark. People are disillusioned and when people get disillusioned then they go for an alternative which at the moment is the Congress. I can't comment how much seats we will get but people in India know the Congress party quite well.
YOU MAY ALSO LIKE TO READ: OPINION: PM Narendra Modi Vs the rest