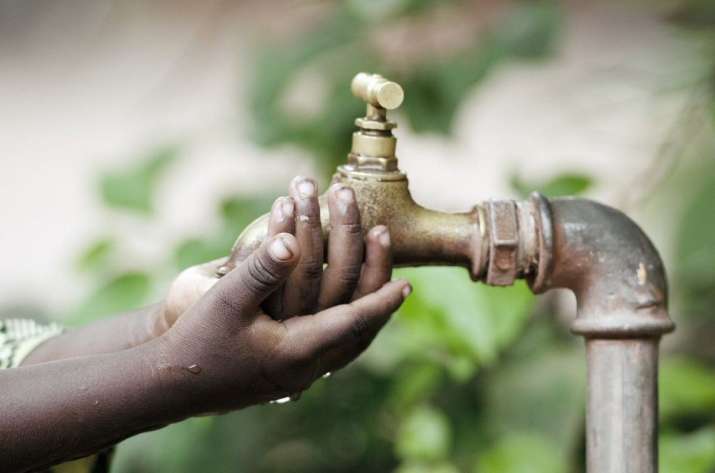 Today, March 22, marks the World Water Day that was established to focus international attention on the importance of water. This year's theme for World Water Day is 'Nature for Water' - exploring nature-based solutions to the water challenges we face in the 21st century.
"How can we reduce floods, droughts and water pollution?" asks the United Nations, which organizes World Water Day each year. "By using the solutions, we already find in nature."
"Nature-based solutions have the potential to solve many of our water challenges," says the World Water Day website.
"We need to do so much more with 'green' infrastructure and harmonize it with 'grey' infrastructure wherever possible. Planting new forests, reconnecting rivers to floodplains, and restoring wetlands will rebalance the water cycle and improve human health and livelihoods."
With over 85 percent of the world living in conditions of water shortages and 1.1 billion people without access to safe drinking water, World Water Day is a reminder that we have the privilege of 20 percent of world's fresh water flowing through our community every day.
To mark this special occasion, PM Narendra Modi joined several others on social media stressing the importance of water conservation. 
Have a look at the tweets:
#WorldWaterDay is an occasion to highlight the importance of Jal Shakti and reaffirm our commitment towards water conservation.

When water is conserved, our cities, villages and hardworking farmers benefit tremendously. pic.twitter.com/bvOO7olXTF

— Narendra Modi (@narendramodi) March 22, 2018
On world water day, Reduce, reuse, and recycle water must be our watchwords if we have to handover a liveable planet to the future generations.#EveryDrop #water #worldwaterday #WaterDay2018 pic.twitter.com/dYBhQjczbt

— VicePresidentOfIndia (@VPSecretariat) March 22, 2018
जल ही जीवन है, जल के बिना जीवन की कल्पना भी नहीं की जा सकती। हमारे शरीर का 70% हिस्सा जल है। एेसे उपयोगी तत्व को संरक्षित करना सिर्फ हमारी जिम्मेदारी नही ब्लकि हमारा धर्म है। #WorldWaterDay https://t.co/0kVLKAhbh8

— Archana Singh (@AnaArchana) March 22, 2018
Water is an essential building block of life. It is more than just essential to quench thirst or protect health; water is vital for creating jobs & supporting economic, social & human development.#WaterForAll #WorldWaterDay pic.twitter.com/7eBPfTt9CK

— Surjya Narayan Patro (@SurjyaOfficial) March 22, 2018
Water is the life line of any civilization. So on this day let's promise ourselves to save water for our upcoming generations. Vande Utkal Janani.#WorldWaterDay #Waterislife pic.twitter.com/7f1b49gDl5

— Debi Prasad Mishra (@SriDebiMishra) March 22, 2018
Water is the building block of life. On #WorldWaterDay , let us pledge to conserve every drop of water and collectively work towards building a sustainable future. pic.twitter.com/ze4wTnsYEF

— Harsimrat Kaur Badal (@HarsimratBadal_) March 22, 2018
This #WorldWaterDay let us come together and pledge for preservation and sustainable use of our water resources. Every drop counts, Let's save water. pic.twitter.com/aObTRXJjIM

— Dharmendra Pradhan (@dpradhanbjp) March 22, 2018
On this #WorldWaterDay, let's pledge to safeguard our water resources and secure a water-scarcity free future through sustainable practices.

— N Chandrababu Naidu (@ncbn) March 22, 2018
My SandArt with message "Save Water, Save Life" on #WorldWaterDay at Puri beach in Odisha. pic.twitter.com/BhMvoNVcrH

— Sudarsan Pattnaik (@sudarsansand) March 22, 2018
Is this the future of all of us? No? Let's remind ourselves that this is how over 80% Indians get their water. And it's getting worse. Water will soon be the greatest cause of social upheaval and war #WorldWaterWeek #WorldWaterForum8 #worldwaterday pic.twitter.com/DEmDDRrpLg

— Shekhar Kapur (@shekharkapur) March 22, 2018
While we thoughtlessly waste water, hundreds of people go thirsty. Let's not take this luxury for granted and think judiciously before using water on this #WorldWaterDay pic.twitter.com/DCh8MPI1ge

— Harsh Sanghavi (@sanghaviharsh) March 22, 2018
Water, essential to sustaining life. We must use it with sensitivity, conserve it. On #WorldWaterDay let us pledge to leave a better world and ensure our future generations do not have to deal with water scarcity

— Suresh Prabhu (@sureshpprabhu) March 22, 2018
On this World Water Day, we encourage everyone to find a way this water season to volunteer and become active stewards of our greatest natural resource.