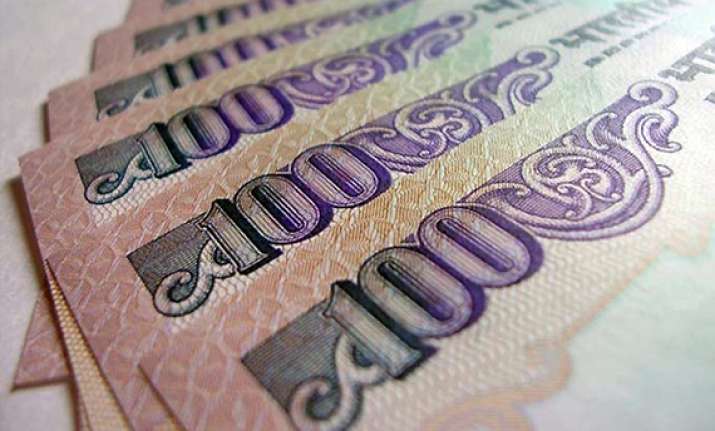 Mumbai, Mar 12: Snapping a two-session gaining streak, the rupee today lost 13 paise to close at 49.97/98 against the US currency on fresh dollar demand from banks and importers as the greenback firmed against world currencies.

Dealers said fresh dollar demand from banks and importers in view of a stronger dollar in international markets, mainly weighed down on the rupee.

In Sydney, the dollar extended its sharp gains during early trading hours after last week's strong jobs report in the US, they added.

Firm equity markets, however, capped the rupee's losses to some extent, they said. The BSE Sensex today closed higher nearly 85 points. Provisional exchange data showed FIIs invested nearly 1,300 crore in stocks today.

The rupee moved in a range of 49.85 to 50.01 at the Interbank Foreign Exchange (Forex) market before settling at 49.97/98, down by 13 paise from the previous close.

"The market witnessed a muted response towards the RBI's 75 basis points cut in cash reserve ratio, which in fact was surprising," Alpari Financial Services (India) CEO Pramit Brahmbhatt said.

The slowdown in the Chinese economic numbers clouded the much awaited non-farm payroll data of US which was very positive for the market.

The dollar index has been trading higher against its counter parts and is expected to hold its gains in the later session too amidst smaller corrections, he added.

The rupee premium for the forward dollar steady to eased on fresh receivings by exporters.

The benchmark six-month forward dollar premium payable in August finished at its previous closing level of 174-176 paise while far-forward contracts maturing in February ended slightly lower at 299-301 paise from last Friday's close of 300-302 paise.

The RBI has fixed the reference rate for the US dollar at 49.9448 and for euro at 65.3999.

The rupee remained firm against the pound sterling to end at Rs 78.13/15 from last Friday's close of Rs 78.66/68 and firmed up further against the euro to Rs 65.51/53 from Rs 65.90/92 previously.

It, also, moved up against Japanese yen at Rs 60.81/83 per 100 yen from last close of Rs 60.92/94.