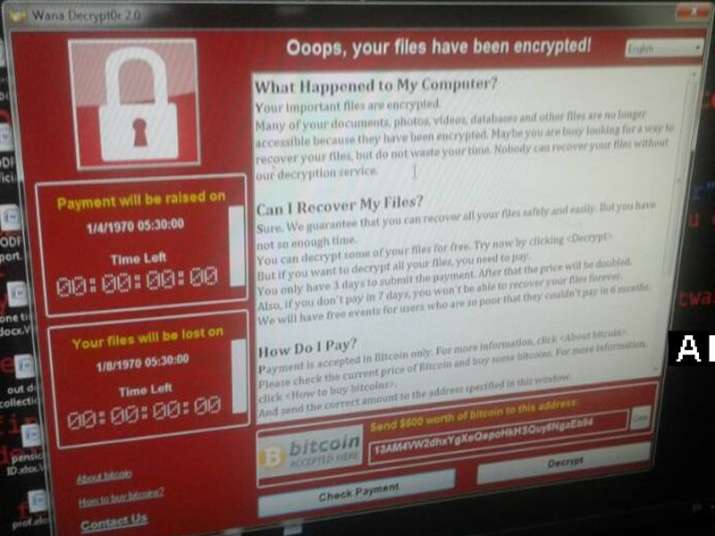 The "WannaCry" ransom-ware attack that hit several countries is turning out to be the most dangerous cyber threat for both corporates and common man, as the global losses are now running into hundreds of millions of dollars.
Ransomware is a type of malware that locks your computer screen and prevents you from accessing your computer until you pay a ransom – which involves giving away money or your password. Currently they are asking anything between Rs. 19000 to Rs. 39000 in India in form of Bitcoins in order to decrypt the data back.
"In 2016, we identified over 100 new malware families released into the wild, more than triple the amount seen previously, and a 36 per cent increase in ransomware attacks worldwide," Tarun Kaura, Director, Solutions Product Management, Asia Pacific & Japan, Symantec told IANS.
"WannaCrypt" the ransomware malware used in Friday's massive cyber-attack has the ability to spread itself within corporate networks, without user interaction, by exploiting a known vulnerability in Microsoft Windows as per the reports.
Mikko Hypponen, chief research officer at a Helsinki-based cyber security company called F-Secure, told news agency AFP that the it was the biggest ransomware outbreak in history and estimated that 130,000 systems in more than 100 countries had been affected.
Hypponen added that Russia and India were hit particularly hard, largely because Microsoft's Windows XP - one of the operating systems most at risk - was still widely used in the countries.
While most major ransomware groups tend to be indiscriminate in their attacks, consumers are often less likely to have robust security in place, increasing the possibility of falling victim.
Hackers may be forgiven if they think they have hit the jackpot. Their ransomware attacks, which began a few years ago, have proven to be money in the bank.
Victims who are unfortunate enough to click on a link in an email download a program that encrypts every file on their computer or network. They can access nothing until they pay a Bitcoin ransom – usually a few hundred dollars, and receive a key to unlock their files.
Besides individual consumers, attackers also target corporations and organizations that might not have the most sophisticated protocols in place. It's a scam that pays off just about every time.
A computer usually gets infected when the user has been visiting websites that provide illicit content and illegal downloads. A person may also unwittingly download and install ransomware by viewing an infected file from a malicious email. 
National Cyber Security Advisor Gulshan Rai, who works out of the Prime Minister's Office, said, "There are about a 100 systems attacked in India and as of now there are no more threats," according to a Times of India report published late Saturday night.
"We understand systems in Andhra Pradesh and Kerala are impacted, but so far our assessment is that there isn't much impact," Rai said in another report.
Speaking at India TV conclave "Samvaad", Minister of Electronics and Information Technology Ravi Shankar Prasad, said, "We have been strengthening our cyber security and I can proudly say that the recent cyber-attack had nearly zero per cent impact in India."
He added that the Cyber Swachhta Kendra -- government's portal on information about cyber security -- is being updated on regular basis since Saturday. 
Till now the malware has disrupted networks in over 150 countries, including Russia and the UK.