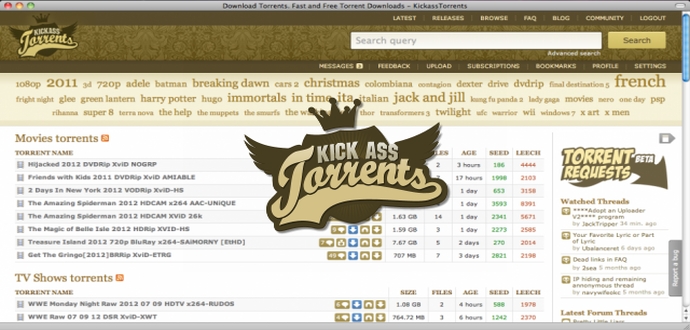 The arrest of the alleged owner and operator of KickassTorrents (KAT), the most popular torrent site in the world, by the US government in Poland and the site's domains being seized appears to have turned out to be a damp squib. It seems you just can't keep a good pirate site down for long.
According to a report by technology website The Verge, two clones of KAT were spotted. The first is created by IsoHunt, an online torrent that index files and is a mirror of the KickassTorrents.com website and the second was at KAT.am.
As per the report, the isoHunt team has that KAT mirror is hosting files from the last year to year-and-a-half and so not everything will be available at this point of time. Furthermore, there is no forum, no community, and no support.
On the other hand, creators of KAT.am claim the site is "hosted on multiple cloud servers to prevent blockade, and the hosting information is well hidden behind Cloudflare." It was also reported that the website will be improved by adding a mobile version, and noted that the site will have the complete torrent database of KAT, which will include all the comments, user information intact.
Also, a support rally is being conducted by the isoHunt team to free the alleged owner of KickassTorrent, Artem Vaulin. The group has launched petitions on the Change.org and The White House websites. It is doubtful that the petitions will be able to achieve anything, but the U.S. government does have a rule that states petitions with over 100,000 signatures in 30 days must receive an official response.