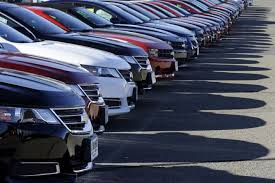 The government's drastic step to demonetise high-value currency notes has not only thrown the lives of the common man in shambles, the impact has also started to become visible in terms of economic activity. 
The government's overnight demonetisation drive has hit the daily revenue of the Regional Transport Office of Delhi. 
The data uploaded by Delhi's RTO on the government dashboard, parivahan.gov.in, shows that the overall vehicle registrations in Delhi were 36 per cent lower in November than the average for the previous 10 months, a period that includes the surge in sale in October on account of Diwali. 
The reason is but obvious: cash-strapped automobile dealers are not frequently turning with registration applications of vehicles. 
Although RTO is now accepting demand drafts to make the process easier, long queues at banks across the capital have put off many people from making the payment.
"Since the registrations are done in cash, few people have been able to register their new vehicles due to the liquidity crunch," said a senior RTO official. 
The light motor vehicle (or cars) segment witnessed the biggest drop in registrations since demonetisation – a drastic 56 per cent. 
The top RTOs in Delhi suffered sharp declines in registrations. The one in Mayur Vihar suffered a drop of 69 per cent while the Sheikh Sarai RTO witnessed a cutback of 65 per cent. 
On the contrary, automobile major Maruti Suzuki India appears unfazed by demonetisation as the company reported a 12.2 per cent increase in sales for November. 
According to the company, its sales during the month under review stood at 135,550 units from 120,824 units sold in the like period of last year.