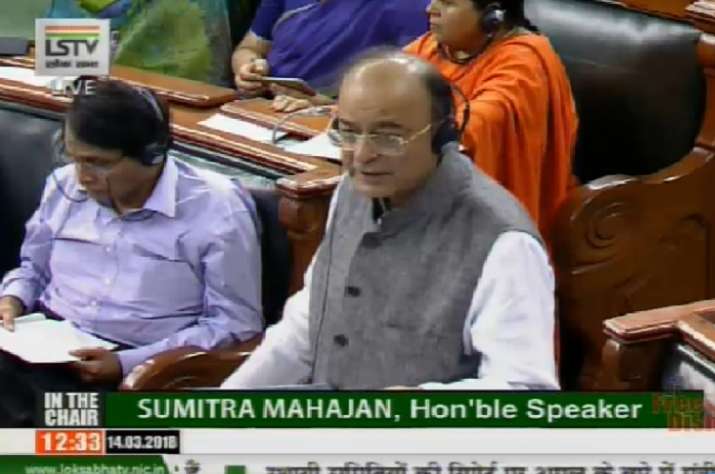 The Lok Sabha today passed the Finance Bill for 2018-19 without a debate, while opposition parties continued to decry the voting process. 
In the recent past, the budget was passed without any discussion in 2013-14 and 2003-04 when all demands were guillotined.
The finance bill was listed for voting for Tuesday but a joint opposition lodged a strong protest with Speaker Sumitra Mahajan and sought that the Centre be restrained.
According to the list of business for Lok Sabha on Tuesday, the 'demand for grants' for the 2018-19 budget, called 'guillotining', were to be taken up for the vote.
As soon as the opposition noticed the listing, they cried foul that the business advisory committee had not cleared the 'finance bill' for proceedings, as is required by parliamentary convention.
An angry bloc of Congress, Trinamool, DMK, RJD, SP, Left, NCP among others submitted a memorandum to the Speaker, objecting to what it called was government's "arrogance and unilateral move to bulldoze all financial business without discussing them in the House".
Congress leader K C Venugopal said, "The government is being arrogant. You cannot pass the finance bill in the din." BJD leader Bhartruhari Mahtab said, "It will be disastrous. The finance bill should be discussed."
With the Parliament in an impasse for a week over several issues, the ruling BJP had issued a writ to its MPs to be present in the House so that the budget can be passed.
It is necessary for the Centre to secure early passage of the 'finance bill' in view of the requirement of the 14-day window for Rajya Sabha to scrutinise the budget before sending it back to Lok Sabha to complete the process and secure presidential assent before April 1.
Lok Sabha members from different political parties signed a letter & sent it to speaker on matter of passing the finance bill without a discussion. pic.twitter.com/WDdLngspFg

— ANI (@ANI) March 13, 2018