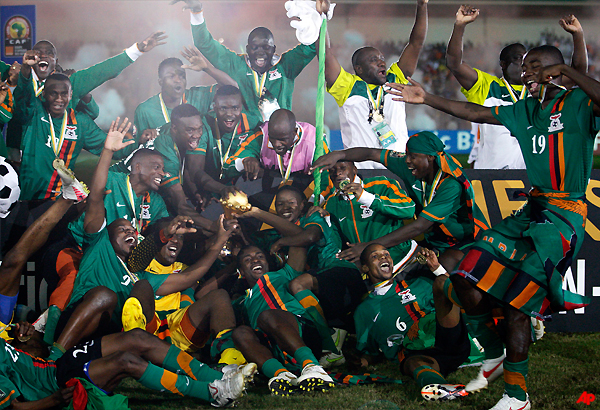 Zurich, Feb 16: Zambia soared in the FIFA rankings after winning the African Cup of Nations, and Germany climbed to second behind World Cup winner and European champion Spain in monthly standings published Wednesday.

Zambia rises 28 places to No. 43, becoming the continent's fourth-ranked nation after starting the African Cup in 16th place.

Ivory Coast, which lost Sunday's final in a penalty shootout, is the highest African nation at No. 15.

Co-host nations Gabon and Equatorial Guinea both were rewarded for reaching the quarterfinals. Gabon rose 46 places to No. 45, and Equatorial Guinea is at No. 110, up 41 places.

Libya is now at its highest position since FIFA created the rankings in 1993. It rose 10 spots to No. 53.

Egypt plummeted 25 places to No. 61 in the rankings, which weigh results over a rolling four-year period. The three-time defending African champions failed to qualify for the tournament.

Former World Cup quarterfinalist Senegal also dropped 25 places, to No. 68, after losing all three of its African Cup matches in the group containing Zambia.

Germany moved up one place to reach its highest ranking since May 2009. The Netherlands dropped to third, largely for losing ranking points in a 3-0 victory over Croatia in February 2008.

South American champion Uruguay is fourth, followed by manager-less England. Portugal rises to No. 6, dropping Brazil to seventh, and No. 8 Italy and ninth-ranked Croatia also traded places.

Denmark's rise to No. 10 relegates Argentina a spot to No. 11, its first fall out of the top 10 since 2004.

Mexico leads the CONCACAF nations, unchanged at No. 21. The United States is next, rising two spots to No. 31 after winning friendlies against Panama and Venezuela.

Australia leads Asian confederation nations at No. 22 because Japan dropped 11 places to No. 30.

Qatar, the 2022 World Cup host, climbed one place to No. 96.

New Zealand leads the 11-nation Oceania group at No. 120.

FIFA rankings for February (January positions in parentheses):

1. Spain (1).
2. Germany (3).
3. Netherlands (2).
4. Uruguay (4).
5. England (5).
6. Portugal (7).
7. Brazil (6).
8. Italy (9).
9. Croatia (8).
10. Denmark (11).
11. Argentina (10).
12. Chile (12).
13. Russia (13).
14. Greece (14).
15. Ivory Coast (18).
16. Switzerland (16).
17. France (15).
18. Sweden (17).
19. Bosnia-Herzegovina (19).
20. Ireland (23).