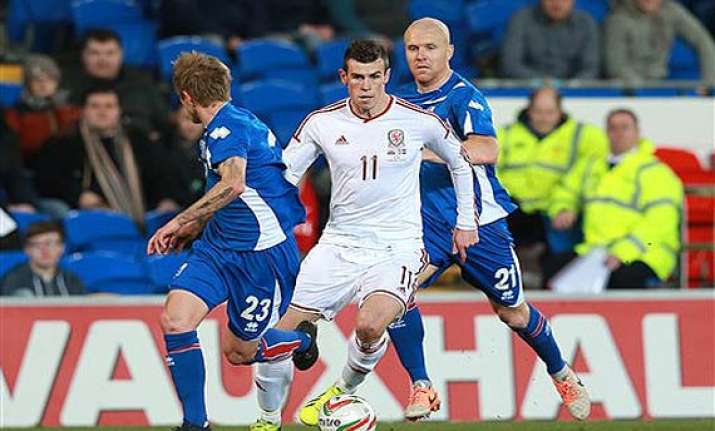 Madrid: 
Gareth Bale is optimistic Real Madrid can win the Primera Liga football title this season, and admitted it has taken him time to get used to life in a new country.
Real Madrid travel to Malaga Saturday knowing a win would momentarily lift them seven points clear of Barcelona and six ahead of Atletico Madrid, both of whom play later in the weekend, reports Xinhua.
Bale is likely to play on the right wing in that game, a position he has had to get used to since moving to Spain, but one where he has few options other than adapt to given that Cristiano Ronaldo is the undisputed lord of the left flank.
"It's not a problem, I have played there for Tottenham and Wales," said Bale, who spoke about his transition from life in London and Madrid.
"It's taken me a while to get used to the city and the team. Now I'm enjoying my football and especially the weather," he said, explaining the differences between Spain and England.
"I've been quite surprised by the tactical side of it. Spanish sides don't tend to play long balls up-field; it's more about possession, slipping your marker and movement off the ball," said Bale, who added former Tottenham player, Luka Modric had been a big help in helping him settle.
Bale also discussed the title race, where Real Madrid are now clear favourites to finish ahead of Barcelona and Atletico.
"We're in a good position but we will need to win all of our remaining matches to reach our objective. We have an advantage but there are 11 games left to play. If we continue to play well, we won't have to worry about the other teams," he said, highlighting that Madrid's title challenge is in their own hands, while Barca and Atletico both need Real Madrid to slip up for them to have a chance.
Perhaps Real Madrid are even more interested in European success than in winning the league as the 'decima' the 10th Champions League trophy is getting closer, given that Real Madrid are virtually assured of a place in the quarter-finals after beating Schalke 6-1 in their last 16 first leg game.
"Our objective is to win the Champions League but we need to take it one game at a time; all of the teams left in the competition have the potential to win it. There are some very strong rivals left but no favourites; it's very open," concluded Bale.