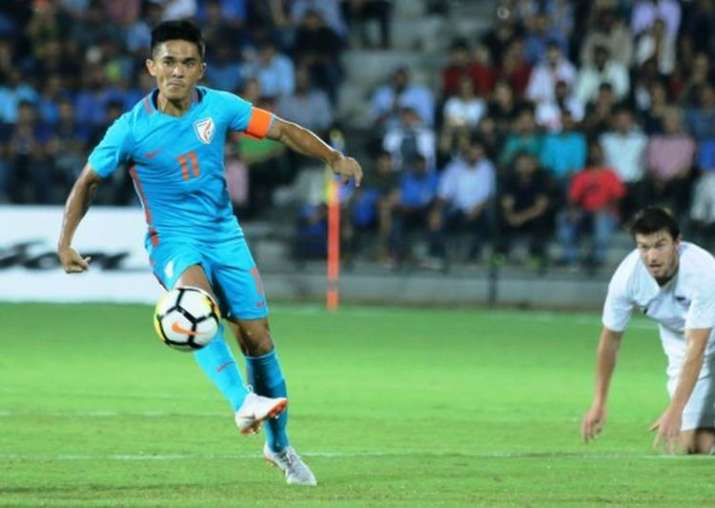 Indian football team captain Sunil Chhetri was seen showing disgust when one of his fans threw a National Flag towards him on his way back to the dressing room after India's 3-0 against Kenya on Monday.
Playing his 100th international game, Chhetri struck twice to drive India to the final of the Intercontinental Cup in Mumbai. The 33-year-old striker, who recently joined the ranks of Portuguese footballer Cristiano Ronaldo and Lionel Messi of Argentina, becoming the third-highest active international goalscorer, was seen showing a distasteful reaction when a fan threw a National Flag towards him for an autograph and someone from his crew stepped on the flag mistakenly.
However, India suffered a 1-2 defeat at the hands of New Zealand in their final league match on Thursday.
Despite the loss, the Indian team is still one foot in the final to be played on June 10 with six points from two earlier wins. The home team had beaten Chinese Taipei (5-0) and Kenya (3-0).
India took the lead through captain Sunil Chhetri in the 47th minute but New Zealand rallied through goals from Andre Earnest De Jong (49th) and Moses Dyer (86th) as the Indian defence looked shaky all through the match in front of a full-house Mumbai Football Arena.
For Chhetri, who was playing in his 101st match, it was his 62nd international goal, levelling with the likes of Zlatan Ibrahimovic (62 from 116 matches) of Sweden and Ronaldo (62 from 98 matches) of Brazil.
If Kenya beat Chinese Taipei tomorrow, it will be a complicated calculation to decide who play in the final. In that situation, all the three teams -- India, Kenya and Chinese Taipei -- will have six points each and head-to-head results will be considered and then the goal difference.
Since, India have a goal difference of plus 7 as against plus 1 of New Zealand, they have a big chance to make it to the final.
(With PTI inputs)