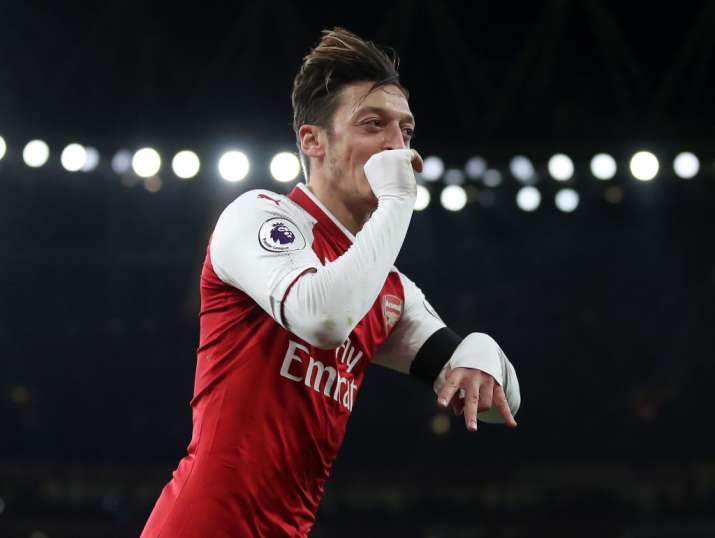 Arsenal key midfielder Mesut Ozil recalled his old days with Real Madrid and said he was nervous, sweating when he met coach Zinedine Zidane for the first time at the Spanish football club. The 29-year old has looked up to the French sensation and has applied his style many times in the matches that Ozil has played for. 
The German playmaker made 105 appearances for the Spanish giants from 2010 to 2013.
"When I arrived at Real Madrid I met Zidane, my hands were sweating because I was so nervous. Zidane was very kind and positive though. We are still in contact to this day," Ozil added.
Ozil admitted Zidane's coaching technique were creative and he always wanted to be like him. 
"The way he played and directed matches always fascinated me," he admitted. "It still fascinates me," the midfielder said.
"His technique and creativity was outstanding; I always wanted to be like him," Ozil added. 
Ozil has recently found his rhythm after a dry spell at the Emirates, disappearing during big matches against the top six. But Arsenal have recently been performing well under their heavily scrutinised coach Arsene Wenger. 
Ozil scored and assisted in their match against Huddersfield this week. The German playmaker fell ill before the Burnley match and flew down to his hometown for a medical checkup. The Gunners won that match on a late penalty which Alexis Sanchez netted. 
Arsenal will play one of their biggest matches of the year as they take on their rivals and Wenger's favourite bout, Jose Mourinho's Manchester United. With Pogba, Ibrahimovic and Lukaku back, the Red Devils have been consistent, despite Mourinho's side parking the bus at various times. 
Ozil can come big today as the trio of Alexander Lacazette, Sanchez and Ozil can be destructive once the attacking play gets underway. The rivalry of Wenger and Mourinho continues as Arsenal hosts Manchester United on December 2 at the Emirates.
(With IANS Inputs)