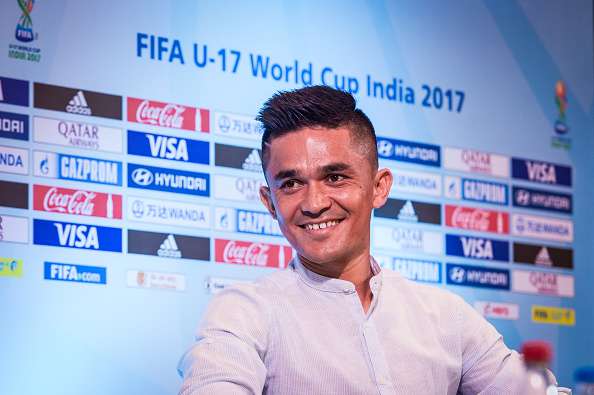 India's senior team skipper Sunil Chhetri claims that he literally jumped with glee after Jeakson's header against Columbia.India might be the favourites in a key clash against Macau but Chhetri mentioned that the men in blue can't afford to be complacent since qualification for AFC Asian Cup is at stake. 
A day after Jeakson Singh scored an epic goal which is the first by an Indian, Chhetri, who is getting ready for the AFC CUP qualifier against Macau could not stop raving about it.
"I was jumping, man! We all were jumping! We had as many as three to four chances, and one of the shots (Rahul K) hit the bar. I was so happy for that goal (scored by Jeakson)," said Chhetri.
Talking about the significance of Asia Cup, Chhetri said it is a massive and the biggest tournament for any Asian country to participate in.
"The only thing which we are talking about in the dressing room is how to qualify in Asia Cup, that's it. And, once we do that we will be happy," Chhetri told reporters on the eve of AFC Asian Cup Qualifier tie. 
"Just because we are on the top in Group A, there is a buzz that we would win tomorrow's match. I have seen many things not happening when I thought it would. Therefore, I would prefer to be calm in tomorrow's match," he said. 
"Some sides may look weaker on paper, but that does not guarantee a win." 
 Replying to a query, Chhetri said the team has a strategy to break the defence of Macau since it was too good in the first half of their previous match. 
Asked whether he would field young players in the next two inconsequential games if they register a win tomorrow, Coach Stephen Constantine said there are no inconsequential games when someone represents India. 
"I will always look at playing youth in the Indian national team and any other national team, for that matter," he added.
It's a rarity when a senior national team captain are glued to the television set in their hotel room watching 16-year-olds play but that's what India U-17 team has done. Chhetri and senior team goalkeeper Gurpreet Singh Sandhu has been keenly following the progress of the U-17 team and airing their views through social media and columns.
(With PTI Inputs).