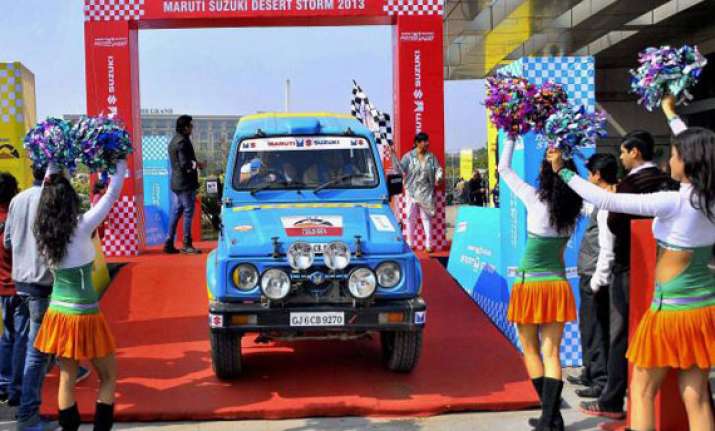 Jaipur,Feb 23: Team Maruti's Suresh Rana on Saturday bagged his third Maruti Suzuki Desert Storm title after winning the overall championship as the 11th edition of the rally came to an exciting end here.
Driving a Maruti Suzuki Grand Vitara, along with his navigator Parminder Thakur, Rana emerged winner in the XTREME category.
Sanjay Takale with his Maruti Suzuki SX4 won the the XPLORE category while Sombed Chanda bagged the NDURE category title with his Maruti Suzuki Gypsy.
The six-day rally saw seasoned participants as well as amateurs traverse through hostile desert terrain and unreceptive conditions.
In the last and deciding leg of the rally, the finalists underwent a neck to neck competition to grab the top spot. The sand dunes of the Thar Desert in the final lap from Bikaner to Jaisalmer to Jaipur provided an apt climax to the six-day annual event that crisscrosses the dry West-Indian terrain.
In every category first place was taken by Maruti Suzuki vehicles, which dominated the podium finish.
After the flag off from New Delhi, the rally traversed a grueling distance of over 2200 km. The rallyists crossed through the tough and undulating interiors of Rajasthan, yet were some of the most scenic and picturesque areas.
The rally on its way crossed the cities of Bikaner, Chattargarh, Jaisalmer, Pokharn Gajnaur, Lakshmangarh.
This year, the rally had five competitive legs, including two night stages. The participants had to prove their night rallying capability twice unlike last year.
The rally which started off with over 152 vehicles saw only 86 vehicles successfully completing the whole distance.
The winners:
Xtreme Category: 1. Suresh Rana; 2. Sunny Sidhu; 3. Lohit Urs.  Xplore Category: 1. Sanjay Takale; 2. Satish Gopalkrishnan; 3. Rajesh Chalana Ndure Category: 1. Somdeb Chanda; 2. Jagmeet Gill; 3. Parth Beniwal.  MotoQuad overall: 1. Mohit Verma; 2. Vijay Parmar; 3. Stephan Raush.