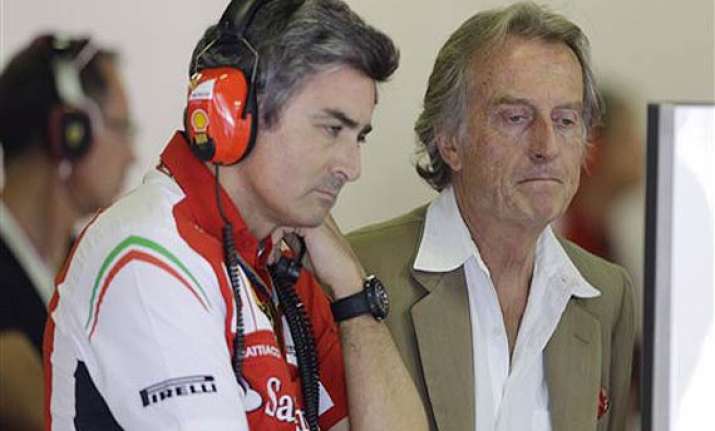 MONTMELO, Spain :  With Ferrari one long year away from celebrating its last race victory, chairman Luca di Montezemolo said Friday he was going to take a bigger role working closely with new team principal Marco Mattiacci to turn the team around.
"I am not happy with where Ferrari is," Di Montezemolo said, minutes after Ferrari driving pair Fernando Alonso and Kimi Raikkonen again proved far off the pace of the front-running Mercedes during the first two practice sessions at the Spanish Grand Prix.   
He added that his goal is to find out "why we are not competitive and to improve the situation as soon as possible without losing the calm and having in front of us the short-term, middle-term and long-term goals."   
Di Montezemolo said it was "important to be closer to the team than in the past" after tapping the inexperienced Mattiacci to replace Stefano Domenicali before the previous Chinese GP.   
Even though Mattiacci "knows how to run a company and how to handle a group" according to Di Montezemolo, the former president of Ferrari North America will need a "full immersion" before he is ready.   
Ferrari's run without winning a race is its longest in nearly two decades.   
The Scuderia's chairman said he expected to see improvement in one month by the Canadian GP.   
"I think, no, I am sure that Ferrari has the capabilities and the opportunities to go back to the victory," he said.   
Alonso has one podium finish in four races this season, while Raikkonen has yet to crack the top six spots after returning to the team he won the title with in 2007.   
Di Montezemolo defended Raikkonen, calling him a "very good driver." He also said that he shared Alonso's frustration with not having a "competitive car."   
Alonso, who earned the team its last win here last year, said he didn't expect to repeat that feat in front of his home fans.   
"We face a lot of work to try and optimize the balance of the car and get the most out of it, even if the circumstances are not that favorable to us," said Alonso. "We must be cleverer than the others in terms of making the changes we need and adapting to them in time for qualifying."