Follow us on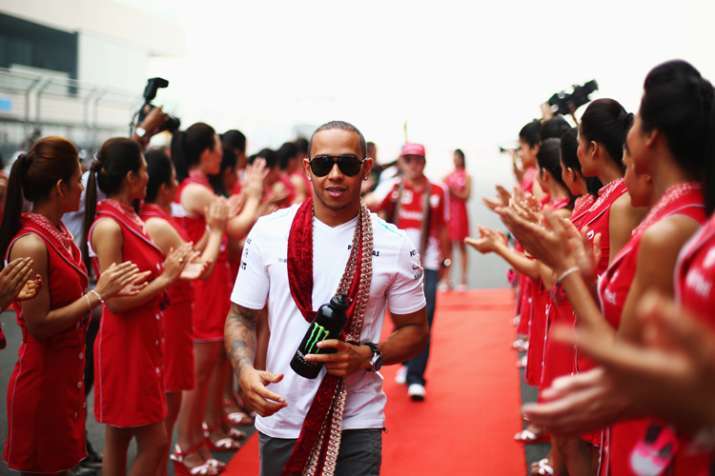 Lewis Hamilton is a world champion and a pioneer in motor sports. He recently won his fifth Formula One drivers championship and became the first driver to breach the 400-point mark in a season as Mercedes dominated yet another F1 year.
But, his recent comments or rather one could say misunderstood ones got him some flak from the Indian public. Outspoken, spontaneous and charming as he is, Hamilton's words were not taken well and he was lambasted for his remarks regarding India.
So much so that, he had to come out and clarify on Twitter that his remarks were blown out of proportion and that is not what he exactly meant.
So, what did the Briton say actually? Well! He stated that India is still a poor country.
"I felt very conflicted when I went to that Grand Prix. Felt strange to drive past homeless people then arrive in a huge arena where money was not an issue. They spent hundreds of millions on that track that is now never used. That money could have been spent on schools or homes for those in need. When we did have the race, nobody came because it was too expensive most likely, or no interest," said Hamilton in relation to the prospect of reviving the Indian Grand Prix that last took place in 2013.
That salvaged some of his lost fandom. But, he went a step further and spoke about how much he loved India every time he visited the country and how it is a part of his daily life. However, he didn't retract from his opinion.
"I hope you know that I love India. A lot of Indians commented so nastily - they can't even contemplate how much I love it."
"Everyone has the right to their opinion - good or bad. But I don't have a negative bone in my body about India. India has been a part of my life. And I've been to India. Jeez! I've been to Mumbai, Delhi, Chennai," Times of India quoted Hamilton as saying at the Abu Dhabi Grand Prix -- which he won.
He went on to add that he loves Indian music and culture and the cuisine is a part of his daily life.
"What I love in India are the colours, the spices. I've had Indian food every night since I've been here (Abu Dhabi GP). And me and my family every weekend - when I'm not racing and we were sitting together watching past Grand Prixs - Saturday night would be curry night.
Hamilton revealed his fondness for Indian culture. "With Bollywood for example, I think there is this incredibly creative mind that they have. Their videos are amazing; the music videos. I don't know what they're saying in the song, but the actual filmography, cinematography is fantastic there," said the Briton.
He has even found a way to have Indian curries along with his veganism.
"In some Indian cooking cream is used. But the restaurant I frequent in London, they'll prepare vegetarian curry without it. And I've no problems after eating spicy Indian food; I'm fine with it. On our team, we have another person Mark. He is more hard core into curry than me," said the 33-year-old.
He also shed light on why he said what he did in the first place.
"When I made that comment - it was more about making sure we don't lose England, we don't lose Germany, Italy - where there is crazy fan culture. Also now in Spain because of Fernando Alonso. But there are other places that don't have it. And it's not that we should ignite new fan culture in other places.
"But it is quite weird sometimes when you go to some Grand Prix and there are only 4,000 people. And there's no crowd and there's this massive track and there's just no atmosphere. It's different. And you do to Silverstone or you to go to Monza - its electrifying," said Hamilton.