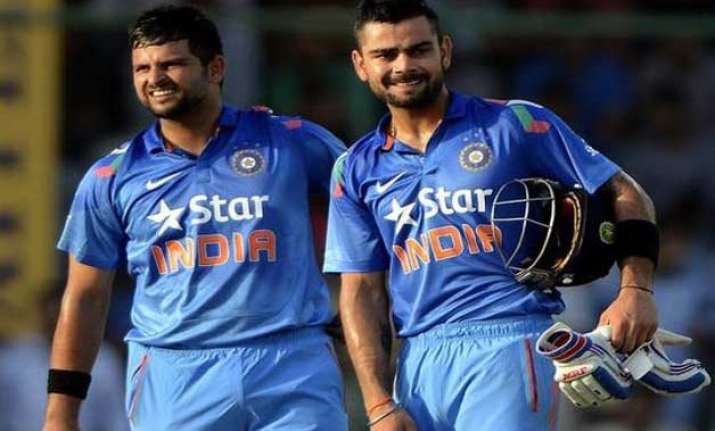 New Delhi: A lot will depend on Virat Kohli and Suresh Raina as they are 2 such batsmen who can dismantle any attack on their day. Team India would be hoping that these two batsmen peak at the right time for India to defend the World Cup title.
After a displaying a superb form in a recently concluded test series against Australia, Virat Kohli however failed to do justice with his talents in the first two games of the Tri series.
"Virat Kohli is a champion, one should not be worried weather he gets  runs or not because eventually he will be among the runs," says Yashpal Sharma, a middle order batsman who represented India in 37 tests as well as in 42 ODIs during late 70s and early 80s.
Sharma further adds, "We can describe Virat Kohli as champion batsmen because of his recent form and the way he assess the game and takes the team forward."
Virat has the ability to score big runs and that too at a very good pace can lower the confidence of any bowling attack.
"He is the trump card for team India's batting line up. The batting of team India will revolve around Kohli and opposition bowlers will look to take his wicket before he gets going," sums up Sharma
For Suresh Raina his inconsistency could be a big worry as he is one of the pillars on Indian batting line up.
His come back in the test squad proved as a failure after he scored a pair in fourth and the last test.
However he showed the glimpses of ODI skill in the first game though flopped in the next.
"He is facing technical problems and must work on them. He needs to have the patience and wait for the bad deliveries. More often than not he throws away his wicket trying unnecessarily to accelerate the inning  Also, he should either learn to play the short pitched deliveries or duck them," cautions Sharma.
Sharma says Raina is too good for ODI's and must assess the situation before taking any risks. He should play sensibly and build his innings.
Also, he must start taking the spinners seriously and play them with patience. He should not try to hit every ball in the air because then he is creating a lot of chances for the deep fielders.
He should not throw his wicket away easily because if he does then everything will go in vein.