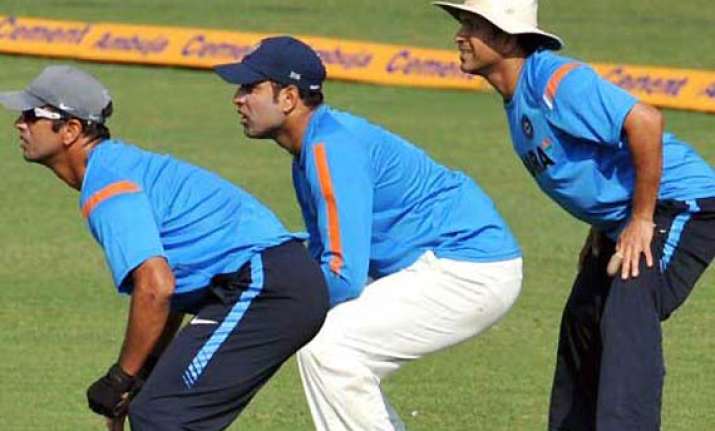 Melbourne, Dec 23: Australia's callow bowling attack has tantalised with the promise of a brave new era, but faces its stiffest examination against India's veteran batsmen in the first Test in Melbourne starting Monday.

Sachin Tendulkar, Vangipurappu Laxman and Rahul Dravid will almost certainly face Michael Clarke's team for the last time Down Under in the four-Test series, having come agonisingly close in the past to pulling off India's first series win on Australian soil.

Unlike many chastened visitors, the prolific run-scoring trio have delighted in Australia's quick and bouncy decks and relish the idea of continuing the harvest at the batsman-friendly MCG with unfinished business on their minds.

"Winning against Australia is the dream of all cricketers, not only from India but anywhere in the world, because when you play Australia in Australia it's probably one of the toughest cricket (contests) a player can play," Laxman told reporters on Friday in the bowels of the famed stadium.

"Australian surfaces are best for batting. Personally, I always relish batting on such conditions than the subcontinent conditions because once you see the new ball, there's true bounce on the wicket and you can play a lot of your shots and you get value for your shots.

"I think the key would be to get a big score in the first innings and I firmly believe that at the MCG if you can get a big total in the first innings you can put the opposition under pressure straight away."

India, second in Test rankings, have arguably their best shot of breaking their duck Down Under in decades, coming against a fourth-ranked Australian side in flux following their humbling Ashes defeat on home soil last year.

With Mitchell Johnson ruled out for the series and Shane Watson sidelined, Australia's bowling hopes rest largely on the shoulders of a talented 21-year-old quick who has played only two tests and an offspinner who has contested seven five-day matches.

Paceman James Pattinson impressed with two five-wicket hauls in his first two Tests against New Zealand but enjoyed the benefit of devilish pitches in Brisbane and Hobart.

Nathan Lyon has given rise to hopes that Australia has found a quality spinner to fill the gaping hole left by Shane Warne, but faces an acid test against India's accomplished players of spin.

More concerning for Australia has been the form of their batsmen, however, who have perfected the art of suffering batting collapses when pressing for victory.

Their 47 against South Africa in Cape Town and their dismal buckling to lose the Hobart Test against New Zealand prompted Australia's cricket honchos to convene a batting boot camp to get them to sharpen up before the Boxing Day test.

It also led to the dumping of youngsters Phil Hughes and Usman Khawaja, who squandered their chances to cement their places at the top of the order.

Shaun Marsh has been rushed back into the side to give the batting line-up some spine, ironically after suffering a debilitating back injury, while Ed Cowan, the form player in the Sheffield Shield, will debut at the top of the order after scoring a century during the tour match in Canberra this week.

Australia's transition remains stuck in the middle to some extent, however, with former captain Ricky Ponting and his fellow greybeard Mike Hussey seemingly determined to hang on like party guests ignoring their hosts' hints to leave.

Cut down repeatedly by New Zealand's honest, if workmanlike, bowlers, the pair will hope to make amends against India's depleted attack at the MCG, where the tourists have lost their last four tests and have not won since 1981.

India's bowling lacks the quality of its batting, a fact former Australian players have queued up to point out this week, with Zaheer Khan coming back after a long lay-off with injury and Ishant Sharma rested earlier this week with a sore ankle.

They will not be wanting for crowd support, however, with Melbourne's large Indian population likely to turn out in force to see Tendulkar's bid for his 100th international century, a feat many local fans would also delight in.

The 38-year-old "little master" has come tantalisingly close in recent Test matches, each attempt monitored slavishly by his home nation of a billion people. The growing pressure to reach the mark would hardly register on him, though, Hussey told reporters in Melbourne on Friday.

"Just seeing how the public deals with Sachin in India, he's under enormous pressure no matter where he plays no matter what the situation, so I'm sure he'll be able to handle it no problems," he said.