Follow us on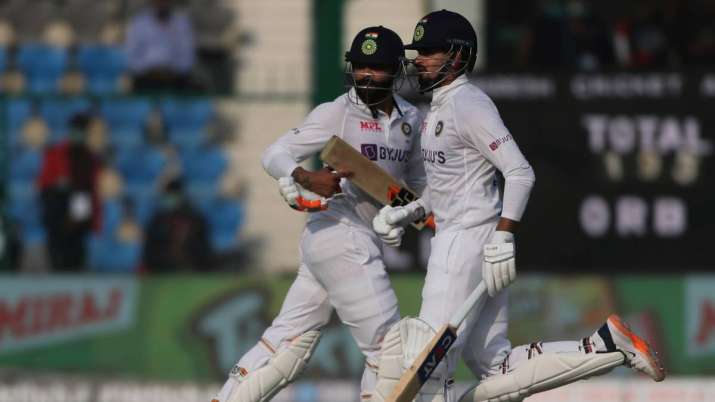 LIVE IND vs NZ 1st Test Day 1 Highlights
Hello and welcome to India TV's Live Cricket Coverage of India vs New Zealand, 1st Test, Day 1 at the Green Park Stadium in Kanpur. I am Aditya K Halder and will take you through the day's proceedings. 
India 258/4 after 86 overs Match is halted due to bad light; four overs before the regulation 90 overs. Indian camp should be happy how the day turned out to be; especially after the middle-order collapse in the second session. Shreyas Iyer (75*) and Jadeja (50*) have put India in a very good position at the end of day's plays as the wicket is throwing every glimpses of a rank turner.
India 252/4 after 83 overs Jadeja brings up a well-deserved half-century in 91 deliveries. This was Jadeja's 17th Test fifty.
India 250/4 after 82 overs The duo brings up a 100-run stand as the new ball has hardly blocked the runs. Jadeja is a run away from his half century. Iyer, on the other hand, is about to enter the 70s.
India 235/4 after 77 overs Williamson returned to spin attacks from both ends but yielded no result as Jadeja and Iyer inch closer to a century stand. The new ball is due in just 3 overs.
India 215/4 after 72 overs (Drinks break) Southee and Patel are unable to find a way through the Jadeja-Iyer partnership, which is only growing bigger by the minute. Ajaz Patel is finding enough help from the surface but Indian batters look at comfort. 
India 202/4 after 68 overs Iyer brought up his half-century early in the over with a single placed towards mid-on. Jadeja soon brought up the team's 200 runs with a quickly taken three runs off the last ball of the over. Debutant Iyer brought up his maiden 50 in just 94 deliveries and under pressure after Pujara and Rahane departed after getting good starts.
India 195/4 after 66 overs Shreyas Iyer has put Raichin Ravindra under pressure as he breaks away from the shackles with two consecutive boundaries. A brave late cut, exposing his stumps, Iyer made his intent clear by cutting the spinner to the backward point boundary and then stepped out to carve Raichin to the extra cover boundary. Pressure on the young spinner but this has been smart and audacious batting from Iyer.  
India 177/4 after 62 overs: The partnership between Iyer and Jadeja is 32 off 76 balls but India are moving at a snail's pace with the run-rate at 2.85 RPO. That shouldn't be a concern as anything over 300 will be tricky on a surface that is assisting spin from Day one. Ravindra and Somerville are bowling in tandem and are making the batsmen play. Interesting passage of play. 
India 162/4 after 58 overs: Spin from both ends as William Somerville and Rachin Ravindra are looking to push India on the backfoot. Iyer is batting on 24 and Jadeja on 7 and the left-right combination are looking in no hurry and are banking on singles. Both Iyer and Jadeja are goo players of spin although the alarm bells are not yet off, as far as the pitch is concerned. 
Final Session: We are back for the final session of play and Ravindra Jadeja along with Shreyas Iyer will look to drive India on a pitch that is showing a lot of encouraging signs for the spinners. Remember, it's just Day one!
India 154/4 at Tea Iyer and Ravindra Jadeja see out initial pressure to ensure India suffer no further damage after Rahane's departure. The second session clearly belongs to the visitors, who picked three wickets in the session with Jamieson starring with the ball again with three wickets in total. Rahane (35) was the only positive from the session for India but couldn't consolidate on a good start. Pujara (26) and Gill (52) met same fate and were the early wickets to fall in the session.
India 150/4 after 54 overs Runs have dried up with two new batters at the crease. As many as three maiden overs -- excluding a 1-run over -- as Ravindra Jadeja and Shreyas Iyer deal cautiously against the spells of Jamieson and Somerville.  
India 145/4 after 49.2 overs: WICKET! Jamieson plays down Rahane right after the stand-in captain had a caught behind decision reverted of the previous delivery. That's a shame as Rahane looked in good touch during his 63-ball 35. The Mumbaikar shot six boundaries during his stay and added pace to the innings after Shubman Gill departed early post-lunch.
India 132/3 after 47 overs Rahane getting into his elements as he patiently waited for two weak deliveries in the last five overs for boundaries; allowing Shreyas to find his feet on the other end. The stand-in captain, in particular, looks at comfort against the spinners; forcing Williamson to bring pacers Southee and Jamieson into the bowling attack.
India 121/3 after 42 overs Shreyas Iyer is off the mark but in a very unconvincing manner as the debutant went for a big shot and was lucky as a thick leading edge fell just short of Kane Williamson, who was running back from mid-off. Rahane, meanwhile, survived an LBW decision and New Zealand are sensing another opportunity. Tim Southee is bowling a good spell and is getting the ball in the right areas. 
India 106/3 after 38 overs WICKET! Tim Southee snares an outside edge and that's the end of Cheteshwar Pujara. Pujara's weakness outside the off-stump continues and the batsman gets deceived by an away going delivery. Southee kept bowling into the right-hander and then gets one to slightly go away, the ball does its bit as it kisses the outside edge and Blundell makes no mistake. Pujara departs after a patient 26 off 88 balls and an opportunity to make a big score is gone. Debutant Shreyas Iyer joins his skipper.
India 95/2 after 34 overs Rahane is off the mark with a boundary and the captain with an authoritative punch through the covers gets himself going. Meanwhile, Pujara gets into the groove with a firm cut through the off-side before coping a nasty blow on his thumb from a bumper from Jamieson. This is going to be an important stand from India's point of view.  
India 82/2 after 30 overs: WICKET! Shubman Gill departs as Kyle Jamieson picks his second wicket of the day and that's a loose shot from Gill. A huge gap between the bat and pad as the ball takes the inside edge of the bat and smashes the stumps. A good innings comes to an end but he will be disappointed. New Zealand strike immediately after Lunch. Skipper Ajinkya Rahane is in the middle. 
Second Session We are back for the post Lunch session and India will look to capitalize on the good start and maintain the momentum. Gill, having reached his half-century will look to build further, while Pujara will aim to do what he does best - occupy the crease. Jamieson to start the proceedings.
India 82/1 at Lunch after 29 overs  Excellent start from India as opener Shubman Gill hit a patient half-century and he is batting on 52 off 87 balls and has the experienced Cheteshwar Pujara for company, who is unbeaten on 15 off 61 balls. India lost Mayank Agarwal early as Kyle Jamieson provided the first breakthrough for New Zealand. However, Gill and Pujara joined hands to drive India further. The first session belongs to India.
India 80/1 in 26.5 overs Gill reaches his 50 in 81 deliveries. That's his fourth Test half-century and the second on Indian soil. Pujara looks comfortable at the other end as well.
India 71/1 in 23 overs Shubman and Pujara bring up the 50-run partnership with the latter contributing just 9 runs in it. The stand comes at a good pace with the duo adding 50 runs in just 91 balls.
India 63/1 in 20 overs The pitch is already showing signs of uneven bounce and plenty of promise to spinners. However, left-arm orthodox Ajaz Patel is yet to get his act together and continues to seep runs to Gill. Right-arm off-spinner William Somerville is introduced to the attack as well.
India 53/1 in 17 overs Gill is feeling comfortable after spending 15 overs in the middle. The right-handed batter came down heavily on spinner Ajaz Patel by clobbering him for a six and a four followed by another boundary of Jamieson in the very next over. At this pace, India might cross 100-run mark by lunch with comfort.
India 36/1 in 15 overs Gill and Pujara are taking their time with the new ball as the threat of Jamieson still looms at large. Interestingly New Zealand skipper Kane Williamson has already introduced spin from the other end in Ajaz Patel. The decision so far has not really troubled the Indian top-order.
India 24/1 in 10 overs Gill is joined by vice-captain Cheteshwar Pujara in the middle as Jamieson continues to probe Indian batters around the off stump line with movement both ways.
India 21/1 in 7.5 overs: OUT! Jamieson strikes early. His persistency with the off stump line with in and outward movement finally paid dividend as Mayank nicked this one. The ball certainly moved away from the opener on the fourth stump line and Mayank couldn't help but poke it to Blundell behind the stumps.
India 15/0 in 5 overs Steady start by both openers as they look to deal with early swing. Southee and Kyle Jamieson have been bowling in tandem with the latter bowling outswingers already.
9:32 AM Both openers Shubman Gill and Mayank Agarwal have walked out in the middle. Tim Southee will start with the new ball. 
9:19 AM A dream come true moment for Shreyas Iyer, who receives his maiden Test cap from legendary Sunil Gavaskar.
9:10 AM: Pitch Report The pitch is giving every hint of being the rank turner like it has always been in the past. There is no grass on the pitch and some cracks are already opening up. Batting first is a wise choice as the wicket will be easier to bat on early but those cracks will only get wider and play up later on. Given the nature of the cracks, which are quite prominent, pacers will get some reverse swing as well.
9:08 AM Let's take a look at the Playing XI.
India Shubman Gill, Mayank Agarwal, Cheteshwar Pujara, Ajinkya Rahane(c), Shreyas Iyer, Wriddhiman Saha(w), Ravindra Jadeja, Axar Patel, Ravichandran Ashwin, Ishant Sharma, Umesh Yadav
New Zealand Tom Latham, Will Young, Kane Williamson(c), Ross Taylor, Henry Nicholls, Tom Blundell(w), Rachin Ravindra, Tim Southee, Ajaz Patel, Kyle Jamieson, William Somerville
9:02 AM India have opted to bat first after winning the toss. Shubman Gill and Mayank Agarwal are all set to open while Shreyas Iyer has been handed his Test debut by stand-in captain Ajinkya Rahane.
Squads
India: Ajinkya Rahane (captain), Mayank Agarwal, Shubman Gill, Cheteshwar Pujara, Shreyas Iyer, Suryakumar Yadav, Wriddhiman Saha (wk), Ravindra Jadeja, Ravichandran Ashwin, Axar Patel, Umesh Yadav, Ishant Sharma, Mohammed Siraj, Jayant Yadav, Srikar Bharat (2nd wk), Prasidh Krishna
New Zealand: Kane Williamson (captain), Tom Latham (wk), Ross Taylor, Henry Nicholls, Tom Blundell (wk), Will Young, Glenn Phillips (wk), Daryl Mitchell, Tim Southee, Neil Wagner, Kyle Jamieson, William Sommerville, Ajaz Patel, Mitchell Santner, Rachin Ravindra