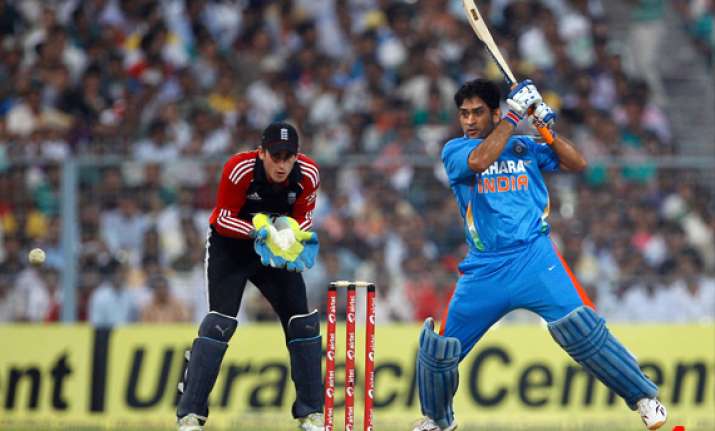 Dubai, Oct 27: Skipper Mahendra Singh Dhoni, named the player of the series following India's 5-0 whitewash over England in the ODI tournament, jumped two places to reach the third spot in the latest ICC rankings on Wednesday.

Off-spinner Ravichandran Ashwin also broke into the top 20 for the first time after claiming 10 wickets in the series. For this effort, the 25-year-old from Chennai managed a jump of 16 places that has put him in 20th spot.

Ashwin's teammate Ravindra Jadeja, who was the player of the match in Kolkata, has also been rewarded for finishing as the most successful bowler of the series with 11 wickets. He has vaulted 12 places to 26th.

Jadeja also jumped 11 places to reach the 12th spot in the all-rounder ranking, which is topped by Shakib Al Hasan of Bangladesh, followed by Shane Watson of Australia.

Dhoni, who scored 212 runs and was not dismissed even once in the series, shared the third spot with England's Jonathan Trott who gained three places following his series contribution of 202 runs.

The two batsmen now trail second-ranked AB de Villiers of South Africa by 18 ratings points who will continue to lose points while he is out of action due to an injury. At the top of the table is Hashim Amla.

Virat Kohli at the fifth place was the only other Indian inside the top 10 batting, while Gautam Gambhir was placed at 13th position.

Other batsmen from the India-England series to head in the right direction are Suresh Raina in 26th (up by four places), Alastair Cook in 36th (up by three places), Kevin Pietersen in 47th (up by three places) and Craig Kieswetter in 66th (up by 26 places).

South Africa's Morne Morkel has taken over as the number-one ranked bowler from England's Graeme Swann in the ODI rankings.

On Sunday, Morkel produced a Man-of-the-Match performance by taking 4-22 in South Africa's series-levelling 80-run victory over Australia in Port Elizabeth.

While, two days later in Kolkata, Swann, who had entered the series against India in No. 1 position, finished the tour of India managing only two wickets at 95.50.

As such, Morkel has moved up four places to the top of the rankings for the first time in his career after gaining 32 ratings points, while Swann has dropped two places to third after conceding 39 ratings points.

Morkel now leads second-ranked Daniel Vettori of New Zealand by just two ratings points.