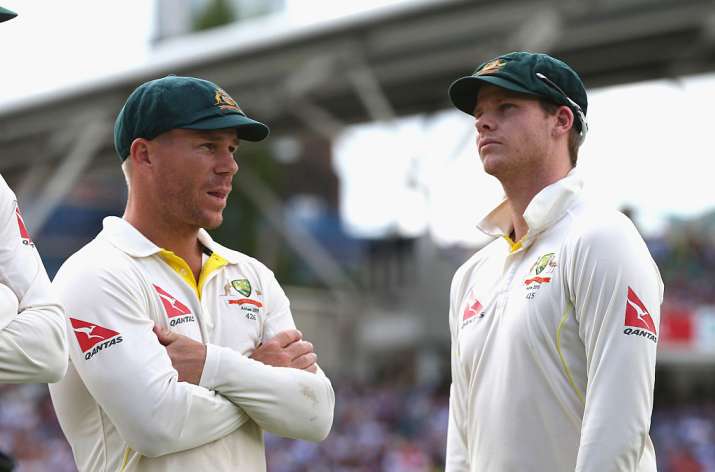 "SandpaperGate is going to be a monster"- Kevin Pietersen. Nobody thought when Pietersen announced this statement on his official Twitter handle that the whole ball-tampering issue which has caught the attention worldwide will actually turn into the worst nightmare for the Australian cricket team. An attempt to "change the condition of the ball in order to gain an unfair advantage" on the third day of the Cape Town Test against South Africa, Australia skipper Steve Smith was handed a one-match ban and fined his entire match fee.
But if reports are to believed, Smith along with his deputy David Warner could face anything up to a life ban for cheating under Cricket Australia's code of behaviour, according to a report on ESPNCricinfo.com. 
On Sunday, the International Cricket Council (ICC) handed a one-match suspension and fined 100 percent of Smith's match fee post his admission to a ball-tampering conspiracy. Smith accepted the charge and the proposed sanction of two suspension points which equates to a ban for the next Test match and which will see four demerit points added to his record. From all the corners, the voices have been raised for his ouster from the top job of a great cricketing nation with a rich history.  
ICC Chief Executive David Richardson laid the charge against Smith under to Article 2.2.1 of the ICC Code of Conduct for Players and Player Support Personnel which prohibits to 'all types of conduct of a serious nature that is contrary to the spirit of the game'.
Additionally, Australia opener Cameron Bancroft has also been fined 75 percent of his match fee and handed three demerit points for breaching Level 2 of the ICC Code of Conduct during the third day's play. 
Both Smith and Warner stood down from their positions on Sunday before the start of fourth day's play in Cape Town, a day after the controversial ball-tampering row erupted. Smith had even clarified on Saturday that he did not feel the need to step down as skipper of the national team. Things went from bad to worse for the visiting side as South Africa thrash Australia to record the second biggest win in the history of Test cricket against them (in terms of runs). 
"These might just be the start of a long list of sanctions that might be handed down to the guilty parties. Under CA's code of behaviour, a player can face up to a life for cheating," ESPNcricinfo reported.
Earlier, Cricket Australia chief executive James Sutherland on Sunday had ordered an investigation into the row. He has asked the CA's integrity head Iain Roy and team performance manager Pat Howard to travel to South Africa to start a detailed investigation and understand the origin of the plan. 
The Australian Sports Commission even stepped in to a demand that the duo should be stripped of their duties as leaders with immediate effect. Australian Prime Minister Malcolm Turnbull also criticized the whole turn of events heavily in the media.