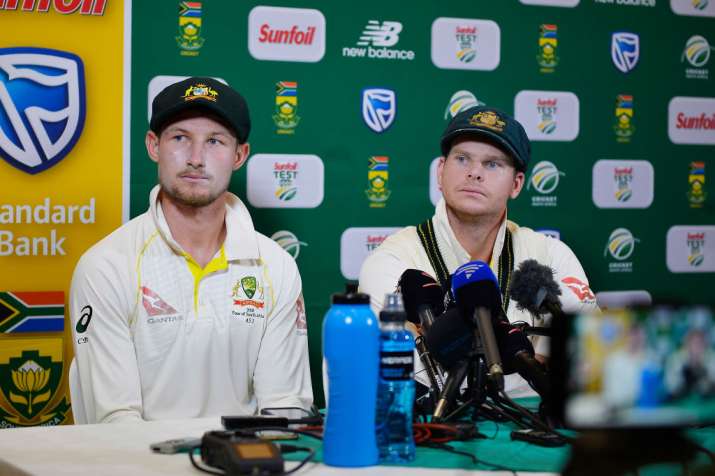 The International Cricket Council has ruled out its verdict on the famous Sandpaper gate in the ongoing third Test between South Africa and Australia. The ICC has suspended the Australia skipper Steve Smith for one Test and fined 100% of his match fee. Whereas, opener Cameron Bancroft has been fined 75% of his match fee and awarded three demerit points for ball-tampering incident.
Bancroft, who was the man tasked with doing the tampering on the field, received three disciplinary demerit points but that was not enough for a ban. Smith, who stood down temporarily as captain of the team on Sunday, will now miss the final Test of the series against South Africa in Johannesburg.
In its ruling, the ICC says Smith admitted that he was "party to a decision to attempt to change the condition of the ball in order to gain an unfair advantage."
Smith and Bancroft confessed on Saturday to a plan to try and cheat against South Africa by tampering with the ball using a piece of yellow adhesive tape and some dirt in order to get the ball to swing.
Although Smith confessed the plan was hatched by the Australia team's "leadership group," he refused to name other players involved and the ICC didn't announce action against anyone else in its ruling on Sunday.
ICC Chief Executive David Richardson laid the charges against Smith under to Article 2.2.1 of the ICC Code of Conduct for Players and Player Support Personnel which prohibits to 'all types of conduct of a serious nature that is contrary to the spirit of the game'. 
Mr Richardson said: "The decision made by the leadership group of the Australian team to act in this way is clearly contrary to the spirit of the game, risks causing significant damage to the integrity of the match, the players and the sport itself and is, therefore 'serious' in nature. As captain, Steve Smith must take full responsibility for the actions of his players and it is appropriate that he be suspended."
"The game needs to have a hard look at itself. In recent weeks we have seen incidents of ugly sledging, send-offs, dissent against umpires' decisions, a walk-off, ball tampering and some ordinary off-field behaviour.
"The ICC needs to do more to prevent poor behaviour and better police the spirit of the game, defining more clearly what is expected of players and enforcing the regulations in a consistent fashion. In addition and most importantly Member countries need to show more accountability for their teams' conduct. Winning is important but not at the expense of the spirit of the game which is intrinsic and precious to the sport of cricket. We have to raise the bar across all areas."