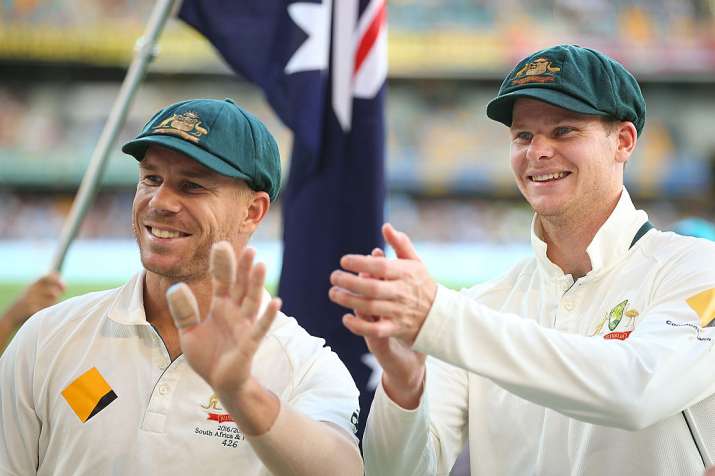 Cricket Australia has released a statement that Australia captain and vice-captain Steve Smith and David Warner have stepped down respectively for the rest of 3rd Test vs South Africa after ball-tampering row. After the scandalous action that were performed during the second day of the third Test in Cape Town, Smith and Warner have stepped down for the rest of the Newlands Test and it will be Tim Paine who will act as the captain. However, Smith and Warner will be playing in the third Test against South Africa, under the captaincy of Paine. 
BREAKING - Steven Smith and David Warner to stand down as Australia's captain and vice-captain respectively for the remainder of the third #SAvAUS Test in Cape Town - CA CEO James Sutherland says in a statement. pic.twitter.com/AE2PO04LSg

— ICC (@ICC) March 25, 2018
Cricket Australia's CEO James Sutherland has said in a release,"This Test match needs to proceed, and in the interim we will continue to investigate this matter with the urgency that it demands.
"As I said earlier today, Cricket Australia and Australian cricket fans expect certain standards of conduct from cricketers representing our country, and on this occasion these standards have not been met. 
"All Australians, like us, want answers and we will keep you updated on our findings, as a matter of priority," concluded Mr Sutherland.
On the board decision to appoint an Acting Captain, Cricket Australia Chairman, David Peever said:
"The Board of Cricket Australia has endorsed Tim Paine to step in as Acting Captain for the remainder of this Test.
"Both Steve and David will take to the field today under Tim's captaincy.
"The Board fully supports the process for an immediate investigation into what occurred in Cape Town.  We regard this as a matter of the utmost seriousness and urgency. We will ensure we have all information available to make the right decisions for Australian Cricket," Mr Peever concluded.
Sutherland had stated earlier on that an investigative team will be sent to South Africa to investigate the matter and will look into all aspects of the case before a decision would be made. 
In the release that was sent out by Cricket Australia, 33-year old Tim Paine will lead the pack for the remainder of the 3rd Test in Newlands Cape Town. Smith and Warner will play under the captaincy of the wicket-keeper batsman. 
Cricket Australia stated that that the 3rd Test would proceed and the matter would be investigated as well. 
The Prime Minister of Australia Malcolm Turnbull had stated that the actions of Steve Smith and Cameron Bancroft were astonishing and disgraceful. 
"We all work up this morning shocked and bitterly disappointed by the news from South Africa," Turnbull told reporters. "It seemed completely beyond belief that the Australian cricket team had been involved in cheating.
"I've spoken with David Peever, the Chairman of Cricket Australia, a few moments ago and I've expressed to him very clearly and unequivocally my disappointment and my concern about the events in South Africa.
"It's their responsibility to deal with it, but I have to say that (to) the whole nation, who holds those who wear the Baggy Green up on a pedestal, about as high as you can get in Australia this is a shocking disappointment. It's wrong, and I look forward to Cricket Australia taking decisive action soon."
The fans and the board wanted Smith to be relieved of his duties immediately. For the betterment of the sport, the 3rd Test would proceed as scheduled.