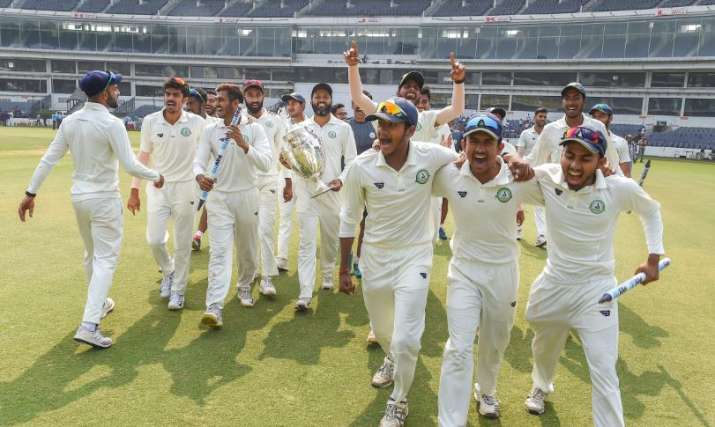 Vidarbha lifted their second successive Ranji Trophy title with a comfortable 78-run win over Saurashtra in the final, proving that their maiden triumph last year was no "fluke". With their win over a fierce Saurashtra side, plenty of records have tumbled this season, with Wasim Jaffer leading from the front. 
Vidarbha needed five wickets to defend their title while Saurashtra, in a chase of 206, were left a mountain to climb after a top-order collapse on Wednesday. They required 148 runs for their maiden title on the fifth and final day at the VCA stadium.
Led by Faiz Fazal, the defending champions downed Saurashtra by 78 runs in Nagpur to lift their second title on Thursday.
Here are a few records which were made and broken in the 2018/19 Ranji Trophy. 
Successful title defence
Vidharbha became the sixth team to successfully defend their title in Ranji cricket. The other sides to do so were - 
* Bombay/Mumbai (Multiple times)
* Maharashtra (1939/40 & 1940/41)
* Delhi (1978/79 & 1979/80)
* Rajasthan (2010/11 & 2011/12)
* Karnataka (1997/98 & 1998/99), (2013/14 & 2014/15)
Record Appearances
Wasim Jaffer has made 149 Ranji trophy appearances, the most for a player in the tournament. Jaffer went past the record of 145 matches by Madhya Pradesh's Devendra Bundela during Vidarbha's last encounter with Saurashtra in Rajkot. In the 2018/19 season, Jaffer became the first player in Ranji cricket to go past 11,000 runs. 
A 'grand' season for Jaffer
Wasim Jaffer became the first player in history of Ranji cricket to aggregate 1000-plus runs in two seasons. He smashed 1260 runs for Mumbai a decade ago in the 2008/09 season, a record then for Mumbai. And in this season, he became the first player to go past 1000 runs for Vidharbha.
Special 10 for Jaffer 
Not only did he become the first player in Ranji cricket to score 11,000 runs or make a record appearance in the tournament, but the Ranji win this season makes it his 10th Ranji title. He became only the fifth cricketer to win 10 Ranji trophies. This was his second title for Vidarbha. And a stat to be known for now, whenever Jaffer has played a final, his team has never lost. 
The record for the most Ranji Trophy wins was claimed by Mumbai's Ashok Mankad, who had won the coveted trophy a record 12 times. The other three cricketers to win the title ten or more times are Ajit Wadekar (11), Manohar (10) and Dilip Sardesai (10). 
The day belonged well and truly to Wasim Jaffer as he continues to script his name in the record books with his numbers. Here's what the veteran had to say.
"When I moved to Vidarbha, I didn't expect to reach the final, let alone winning it. I am happy to win two in two years. Playing in a winning team motivates you. Playing tenth final is not a small thing, winning two in two is outstanding. I enjoy playing cricket. Chandrakant Pandit brought me to Vidarbha from Mumbai and he gave me a lot of confidence. I know only playing cricket and I don't want to let it go."