Follow us on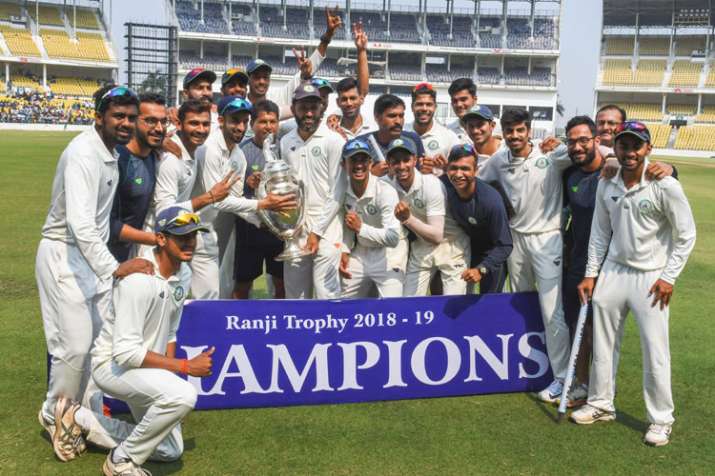 Graced by the presence of a veteran and an experienced India pacer, the Vidarbha youngsters made full use of the opportunity to up their game and clinch a second straight Ranji Trophy title.
Led by Faiz Fazal, an old-timer in his own rights, the defending champions downed Saurashtra by 78 runs in Nagpur to lift their second title on Thursday.
However, neither the veteran in Wasim Jaffer or the star in Umesh Yadav, had a say in the victory for the hosts and that is nothing but a great sign for a team, who is vying to make themselves a force to be reckoned with in the domestic circuit.
Their victory was led by a 29-year-old orthodox bowler in Aditya Sarwate and he perhaps couldn't have performed at a better stage than this.
Picking up 11 wickets in the match, Sarwate broke the bakcbone of the Saurashtra innings in both the innings and managed to do the 'coveted' double of getting the prized wicket of Cheteshwar Pujara twice in the game. Not only that, the man from Nagpur chipped in with 49 huge runs off 133 balls in his second essay of the match to give himself and his peers something to bowl at.
He was backed up well by Akshay Wakhare, who on his part, took seven wickets as well in the game.
And, as the celebrations settled in, two of the biggest stars in the team reflected on the journey and the future of a team that now wants to fly.
This is what Jaffer, Umesh and others had to say after their second consecutive Ranji Trophy win.
Wasim Jaffer: When I moved to Vidarbha, I didn't expect to reach the final, let alone winning it. I am happy to win two in two years. Playing in a winning team motivates youPlaying tenth final is not a small thing, winning two in two is outstanding. I enjoy playing cricket. Chandrakant Pandit brought me to Vidarbha from Mumbai and he gave me a lot of confidence. I know only playing cricket and I don't want to let it go. 
Umesh Yadav: Vidarbha has played well for the last 3-4 seasons. So, this (winning the Ranji Trophy for the second time in a row) isn't a surprise. It's definitely good that we have put Vidarbha on the cricketing map of the country. It has motivated the kids to take up cricket. It's a good indicator of how good the support staff is that players haven't got injured through the season. The youngsters have gained a lot of maturity over the years and we would like to keep it going.
Aditya Sarwate: It was a terrific final. I would like to congratulate the Saurashtra team to coming this far. They (team management) are always there for us. In the second innings it was difficult to rotate the strike but the idea was to bat long and let the pitch deteriorate. The runs with the tail were crucial.
Faiz Fazal: It feels unreal. Behind all this there is a lot of hard work from each and everyone. It is different, first time is always special but we had to work really hard this season. The whole team have worked hard in the off season. Really happy with the entire season but more happy with the way we played this final. Can't thank them enough, each and every member of the support stuff has been incredible. They give us everything and make our life comfortable. Lucky charm maybe (talking about captaincy). Hopefully I continue for a few more years.
Akshay Wakhare: He's (Wasim Jaffer) one of the best professional, all credit goes to him. It's an indicator of Waseem's influence that we have played so well. He has been a professional and has had an impact on everyone's game. 
Everybody were saying it's fluke and fluke when we won the Ranji Trophy last year. I want to tell them all that it's again second time fluke. 
Chandrakant Pandit (coach): It's a very important win for us. People were saying it's fluke, but we have proved them wrong and won it for the second time. There was a lot of pressure, we only followed the process. You can see the results. It's just a matter of beginning for us. The support from the association was great.