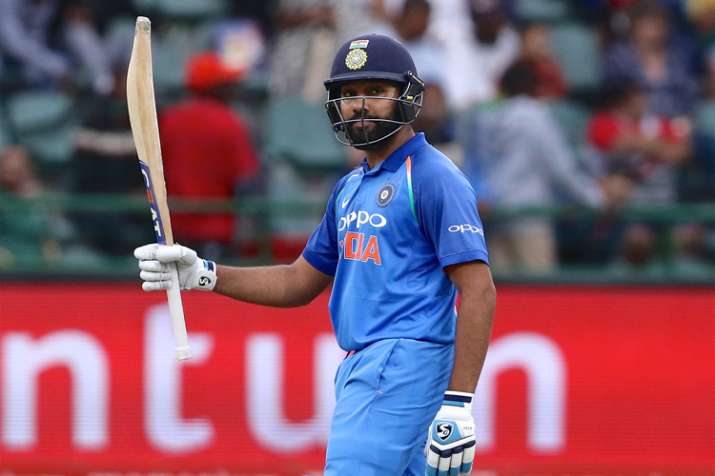 India batsman Rohit Sharma has cleared the Yo-Yo fitness test and is set to travel with the Indian team to England on June 23. India will tour Ireland for T20 Internationals scheduled for June 27 and 29. The tour of England, comprising three T20 Internationals, three ODIs and five Test matches, starts on July 3.
According to sources close to the matter, Rohit was called to the National Cricket Academy in Bengaluru on Wednesday where he cleared the Yo-Yo fitness test.
The Indian team is set to travel to Dublin, Ireland on June 23 from New Delhi.
It should be noted that the Board of Control for Cricket in India (BCCI) has made it mandatory for the players to clear the Yo-Yo test in order to get selected in the team.
Almost all the players, including skipper Virat Kohli, have comfortably cleared the qualifying mark for the Yo-Yo test. Ambati Rayudu is the only player in the UK-bound squad, who has failed to clear the fitness test and was subsequently replaced by Suresh Raina. 
A player must score a minimum of 16.1 in the Yo-Yo test to be eligible to play for the country.
According to earlier reports, Rohit, after skipping the June 15th Yo-Yo test, had appeared for the same on Sunday (June 17) at the NCA. However, the Mumbai batsman failed to clear the test on Sunday and requested the BCCI to give him more time.
The BCCI then granted Rohit the permission to appear for the test on Tuesday. However, the batsman once again failed to appear for the same and was summoned to come on Wednesday. 
Media reports on Tuesday said that Test vice-captain Ajinkya Rahane was kept on stand by in case a situation occurs where Rohit does fail to attain the 16.1 qualifying mark.
"There is nothing new in having a stand by. In case the necessity arises, Rahane is being seen as a reserve opener and will fill in that role. As of now, we have not heard that Rohit has any fitness issues," a senior BCCI official, who has worked closely with the cricket operations team, told PTI.
The Yo-Yo test has been a raging topic in Indian cricket since veterans Yuvraj Singh and Suresh Raina earned the ignominy of being first two players to have failed it. Raina since then did well enough to clear and earned a recall in the Indian limited overs team.
However with three players -- Sanju Samson (India A), Mohammed Shami and Ambati Rayudu (India seniors) failing the test, questions have been asked by the Committee of Administrators (CoA) as to why it was not conducted before team selection.