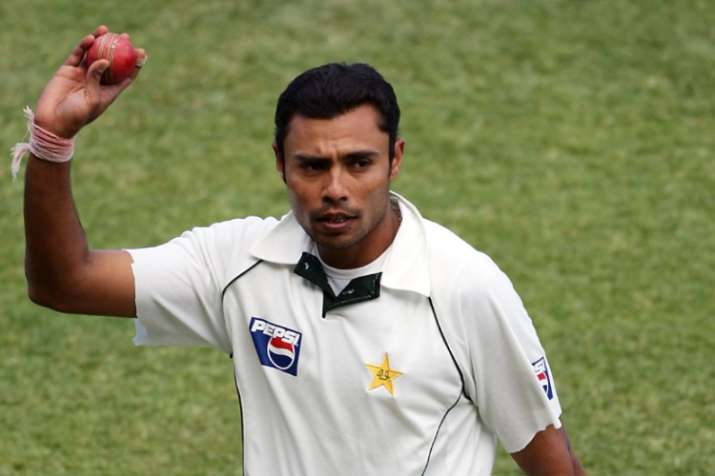 Former Pakistan leg-spinner Danish Kaneria has confessed his role in a fixing scandal that astonished the cricketing world and rocked England during the 2009 County season which led to the imprisonment of former Essex team-mate Mervyn Westfield. 
After six years of denial, the former international player has finally opened up in an exlcusive interview with Al Jazeera, which is obtained by Sportsnail.
Kaneria was handed a life ban by the English Cricket chiefs which was effictively applied worldwide. 
The interview begins with Kaneria's confession. "My name is Danish Kaneria and I admit that I was guilty of the two charges brought against me by the England and Wales Cricket Board in 2012.
"I want to apologise to Mervyn Westfield, my Essex team-mates, my Essex cricket club, my Essex cricket fans. I say sorry to Pakistan."
The Pakistan spinner's international career came to a hault after the scandal broke out back in 2009 while he was playing for Essex County club. He was found guilty of corruption and cheating. 
Kaneria played a central role in the scandal, by enabling the corruption and introducing teammate Westfield to an illegal bookmaker Anu Bhatt. Westfield had accepted 6000 Pounds to concede 12 runs in his first over in a Pro-40 match against Durham in 2009. 
Surprisingly, Kaneria, who was arrested alongside Westfield, was dropped of the charges due to lack of evidence against him. Since then, Kaneria had denied any involvement in the spot-fixing and has protested his innonce several times. 
Kaneria confessed to that he had met bookmaker Bhatt four years before the 2009 scandal. 
"In 2005 on a West Indies tour, my assistant manager introduced me to Anu Bhatt, because he was a Hindu and he was a cricket fan/ Then we were on a India tour and over there, 2008 it was I think, Anu Bhatt invited the whole team for dinner, so me and my wife and other cricketers went to his house for the dinner.
"The ACU came to Pakistan and told several cricketers and me that he is a suspicious guy and is involved in doing fixing. I regret very much, I didn't complain to the higher authorities, like English Cricket Board or ICC unit. I didn't inform or didn't tell them this guy is over here.
"Mervyn used to tell me that he wants to become a rich cricketer. I was highly paid in Essex, and I was an international player at that time. And I was living a life, a very lavish life, so he also wanted to make money. I think he was targeted by Anu Bhatt and I think he fell into that temptation. Being an international cricketer and a senior cricketer, I should have taken it one step higher of telling Mervyn that this guy is suspicious."
Kaneria is Pakistan's leading wicket-taker among spinners in Test cricket with 261 wickets. He played 61 Tests and 19 ODIs between 2000 and 2010. 
In the interview, Kaneria came clean and stated that he covered up his wrongdoings to protect his ailing father - who died of cancer in 2013.
"I didn't have the courage to face him and tell him that I was wrong. He was a very, very proud guy. Very, very proud of me and what I did, representing Pakistan, representing my country.
"Now I have become strong enough to make this decision, because you cannot live a life with lies."
The 37-year old now hopes if he can be granted forgivness and be allowed to return to cricket in order to educate future players with their decision making.
"I want to ask people's forgiveness. Cricket has given me so much in my life and I want to give something back. If the ECB and ICC and other bodies would give me a second chance I can help to educate young people in cricket, teach them that if you do wrong you are finished like me.
"There are people who will do temptation to you, but you have to be strong. Go to a right direction, rather going to a short cut and making money in a short cut. It will end them where I am at today."