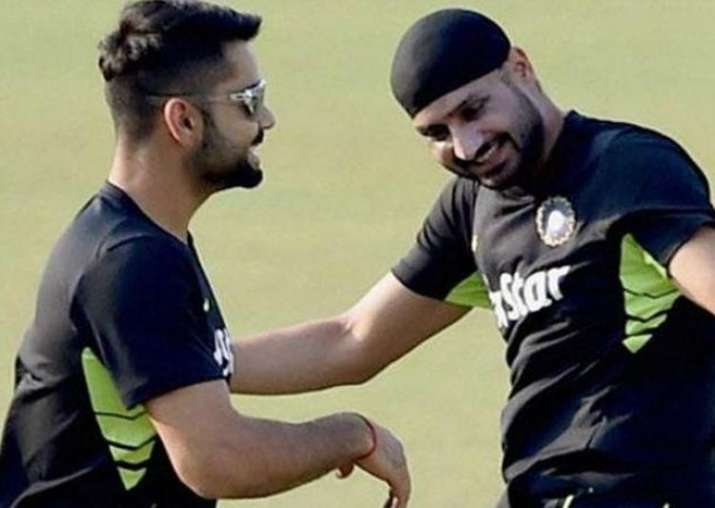 Having failed miserably on his last tour of England in 2014, India skipper Virat Kohli will look to prove his mettle this time when his team tours England for three T20Is, three ODIs and five Tests, starting July 3. India's veteran off-spinner Harbhajan Singh has backed Kohli, claiming that the 29-year-old has changed a lot since his last outing in England and he will score a lot of runs this time.
In 2014, Kohli managed to score just 134 runs in five Test matches at a dismal batting average of 13.40. In limited-overs too, Kohli has not been able to live up to the expectations in England as he has made 291 and 70 runs in 10 ODIs and two T20Is, respectively.
"Last England tour was not good for Virat Kohli, but he has changed a lot and he will definitely score runs this time in England," Harbhajan told IndiaTV during the show 'Cricket Ki Baat'.
(ALSO READ: Rahane hopes to put up a good show in England)
Kohli was supposed to play County Cricket for Surrey ahead of India's tour of England but he had to withdraw due to a neck injury, which he suffered during the 11th edition of the Indian Premier League (IPL) in May.
According to Harbhajan, the County withdrawal has come as a blessing in disguise for Kohli as he will return stronger after a much-needed break.
"County cricket is very hectic as you have to play four-day matches and subsequently a one-day match. Virat Kohli needed this rest because if he would have gone to play County then it would have become more hectic for him. We need him fresh as if he remains fresh then I am sure he will score a lot of runs there," he explained.
(ALSO READ: Anderson advised 6-week rest before India Test series)
Harbhajan also hailed India's bowling attack that has been a talk of the cricketing world in the recent past. "We have very good spin options in our team. Whoever gets selected in the team needs to work on his line and wait for the fourth and fifth day to take advantage of the situation to pick up some wickets," he commented.
Under the captaincy of an aggressive leader Kohli, the Indian Test team has played fearless cricket in the last couple of seasons. However, composed cricketers such as Ajinkya Rahane, Cheteshwar Pujara and Murali Vijay have also been vital for Team India.
Harbhajan firmly believes that India have the players, who can stay calm in the aggressive situation. "It doesn't matter how much rough England play on the ground, cricket is only about bat and bowl. You can't play it with foul words. 
"I have seen a lot of players who were not good with bat and ball but always loud-mouthed that made their career limited. If England show aggression there, then we have players who can stay calm in the aggressive situation. We have players who win us matches in every situation," he continued.
(ALSO READ: Harbhajan mocks Yuvraj's age, compares him to Afridi)
During India's tour of England, Harbhajan will be seen doing commentary for Sky Sports. Talking about his new endeavor, the 37-year-old said: "I will be joining Sky Sports and it will be a new job for and I seriously don't know what will happen there. I still consider that playing cricket is a tougher job than commentary. But let's see how it will go there."