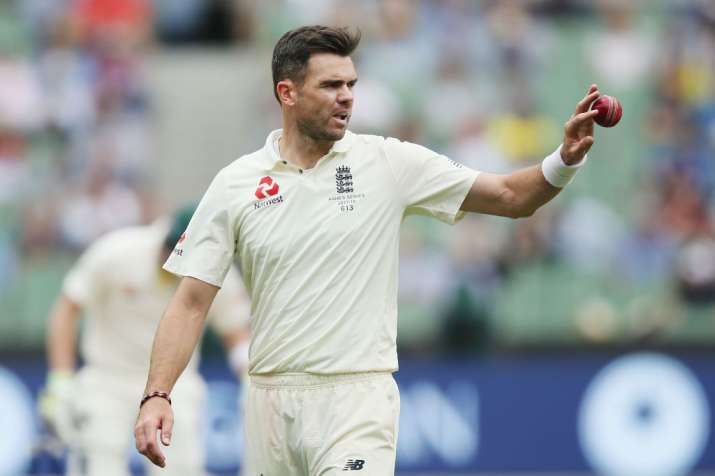 To be in his best shape to counter India in the upcoming Test series, paceman James Anderson will go into a six-week rehabilitation period to recover from a long-standing shoulder injury, England coach Trevor Bayliss has said. Anderson, who has been playing some endless Test cricket, is advised to rest before the five-match Test series against India which begins August 1.
The Test specialist has played a major role in the red ball cricket for England and is one of the weapons against a solid Indian batting line-up which contains the likes of Cheteshwar Pujara, KL Rahul, Virat Kohli, Murali Vijay and Ajinkya Rahane.
England's all-time leading Test wicket-taker, troubled by a right shoulder injury, will miss Lancashire's next two matches -- against Worcestershire and Hampshire -- in this period.
The 35-year-old pacer though had played in drawn Test series against Pakistan, taking nine wickets in two matches at an average of 19.11.
The five-Test series will begin on August 1 at Birmingham.
Bayliss, in an ECB statement, said they want Anderson to be in best possible shape before the challenging India tour.
"We have five Tests against India in a six-week period from August 1, which will be an intense and challenging period for all our bowlers, and therefore it's vital that we ensure Jimmy goes into that series in the best possible condition," said Bayliss in an ECB statement issued Sunday.
"Jimmy has to manage the issue with his right shoulder, and we've been advised that the best way for him to prepare for the India series is to take a six-week break from cricket now, initially to rest it and then to work slowly back to cricket," he said.
The Test series will be played after a three-match Twent series and a three-match ODI series.
(With PTI Inputs)