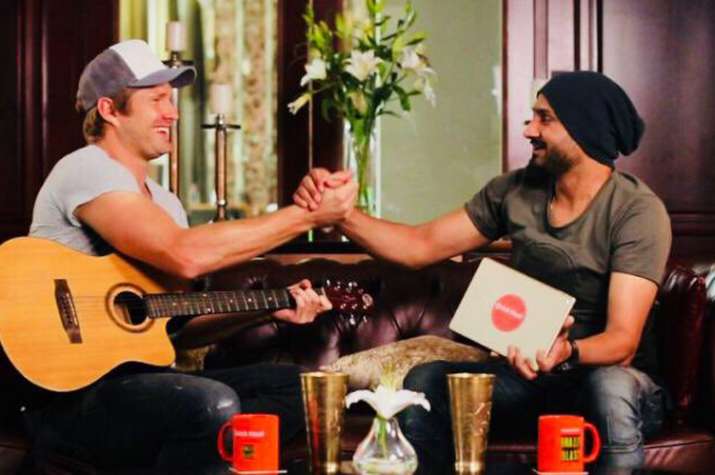 It's rare that we see an Indian and an Australian cricketer indulging in some funny off-field banter and giving the world a glimpse of their 'never seen like before' camaraderie. However, we witnessed this incident during a web series named 'Bhajji Blast' where Harbhajan Singh hosted Australian all-rounder Shane Watson for a candid conversation. Both Watson and Harbhajan were teammates in franchise Chennai Super Kings (CSK) who lifted the coveted trophy in the 11th edition of Indian Premier League (IPL).
The 37-year old off-spinner had previously hosted some of his CSK teammates during the various episodes of the web series. But, this time it was the turn of Watson, the veteran Aussie all-rounder Watson played a significant role in helping CSK win the title for the third time by slamming a match-winning hundred in the IPL final. 
Both Harbhajan and Watson spoke in detail about their playing days, spoke about the rivalry between India and Australia and also exchanged personal notes during the show. The Indo-Aussie duo also made fun of Yuvraj Singh's age and compared him to Shahid Afridi. 
Afridi's age has always remained a talking point between cricketers to commoners and has remained a hotly debated topic of discussion. 
During the interaction, Watson enquired from Harbhajan about how old was Yuvraj when he played his debut game for Team India.
To this, the off-spinner replied, "18". On this, Watson joked, is he talking about the 'cricket age' or the 'birth age'?
Hearing this, Bhajji couldn't hold himself from taking a dig at his childhood friend (Yuvraj), he said: "Did you spend a lot of time with Afridi?" to which Watson stated: "He (Afridi) has been 36 for about 7 years. That's a great effort."
Watson also recalled how he has seen Yuvraj in the cricketing circuit for a number of years now. "I have played against Yuvraj in under-19 World Cup. He scored 50 odd runs off 20 balls. A year later, he played Champions Trophy in Kenya. He was so dominating," the Australian added.
Yuvraj is currently out of the reckoning from the national team courtesy his poor performance in the domestic circuit and in IPL. He played for Kings XI Punjab in the recently-concluded edition of the cash-rich league.