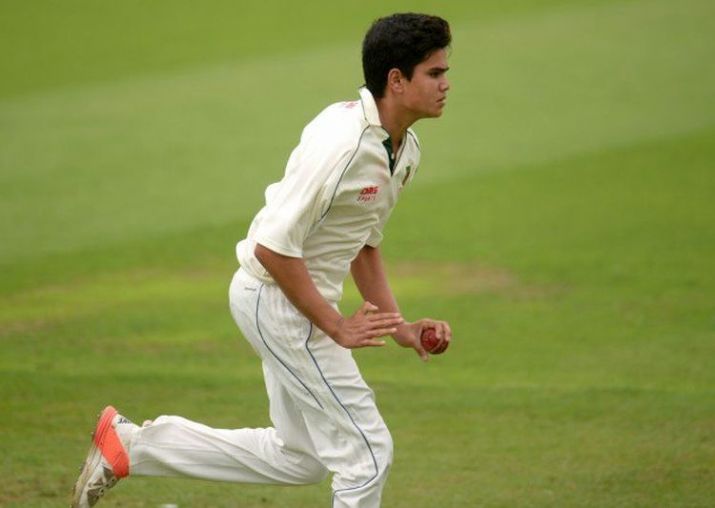 One of the most promising youngsters in the making, Arjun Tendulkar will not be participating in the upcoming inaugural edition of the Mumbai T20 League as the teenager needs time to master his bowling and the decision was made after consulting with his father Sachin Tendulkar, who is the brand ambassador of the T20 League.
As reported from Times of India, Arjun is working on remodelling his bowling action and does not feel ready to play competitive cricket just yet. Junior Tendulkar's withdrawal comes as a huge jolt for the Mumbai T20 League as many franchises would have had his name on their to-get list in the auction which is to be held at Bandra hotel on Saturday.
Tendulkar has been in tremendous form of lately after snaring two-five wicket hauls and four for in the 2017-2018 U-19 Cooch Behar trophy. His form is being monitored by his coach Atul Gaikwad, who is a Pune based-coach-cum-bio-mechanist.
"His body has grown very quickly in the last couple of years – you can see the difference in his growth almost every couple of months, and perhaps as a result of that, has suffered two back-to-back stress fractures, which saw him ruled out for almost a year. He's gone through a lot. Every ball of his is monitored by his coach Atul Gaikwad, who has been working closely on his bowling action," the daily quoted an unnamed source.
As reports suggest, the youngster began working on his remodelled bowling action from January 8 and is yet to master the technique. Arjun's iconic father had also helped in taking up such a decision and was advised to take things slow if required.
"Tendulkar advised that if he wasn't ready to compete, then he shouldn't play in the league. The batting great felt that the tournament was a stage for him to perform, and not rectify his action. For him, it was important that Arjun takes one step at a time, and plays only when he's confident about his new action. Arjun is, after all, just 18, and has a long way to go. He then informed the MCA officials today about it," the source said.
The inaugural T20 League will feature six teams - Mumbai North, Mumbai North-West, Mumbai North-East, Mumbai North-Central, Mumbai South Central and Mumbai South. T20 league fixtures will be held in the famous Wankhede Stadium between 11 to 21 March.