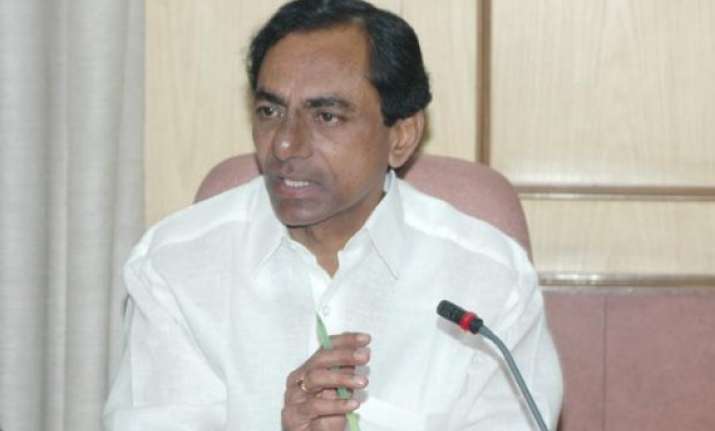 Hyderabad: Council of Ministers of Telangana will be expanded on December 16, six-and-a-half months after the government of the newborn state came into being.
Swearing-in of the new ministers will take place at Raj Bhavan at 11 AM, said a release from the Chief Minister's Office.
The Telangana cabinet, which was sworn-in on June 2, currently consists of 12 members including Chief Minister K Chandrasekhar Rao.
As there is scope for inducting six more members into the cabinet, it is expected that as many candidates may be accommodated in the expansion.
The chief minister himself is holding charge of key portfolios like power, municipal administration, industries, roads and buildings while many ministers are entrusted with additional charge of other departments for the last six months.
Rao called on Governor E S L Narasimhan at Raj Bhavan this afternoon and was said to have discussed the cabinet expansion issue.
Out of the 10 districts in Telangana, Khammam and Mahbubnagar lack representation in the cabinet at present.
Former minister Tummala Nageswara Rao, who recently switched sides from the Telugu Desam Party to the Telangana Rashtra Samiti, is tipped to be inducted into the cabinet from Khammam district.
Though Tummala is not a member of either the Legislative Council or the Assembly but had been assured of a Cabinet berth at the timing of joining the ruling party.
He may be nominated to the Council soon.
If the buzz in political circles is to be believed, Tummala may be given the crucial Home portfolio, currently being looked after by veteran leader Nayini Narasimha Reddy.
Since Nayini is not keeping good health, he may be eased of the Home portfolio and continue as Labour minister, a charge he has been holding additionally.
Rao had recently promised to give a Cabinet berth to a tribal to take care of the community affairs and as such the name of MLC S Ramulu Naik is being tipped for the slot.
Currently, it is an all-male cabinet but the chief minister may correct the imbalance by inducting at least one woman.
Former minister Konda Surekha from Warangal district, who crossed-over to TRS ahead of the elections, is said to be in the race for a cabinet slot while the name of first-time MLA K Lakshmi is also being discussed in political circles.
Though the name of senior legislator Koppula Eswar was doing rounds initially as a probable for cabinet berth, the chief minister appointed him as government Chief Whip in the Assembly, a post with the rank of cabinet minister.
Another ministerial aspirant Gampa Govardhan has been appointed as the government Whip in the Assembly along with Gongidi Suneetha and Nallala Odelu.
Rao also dashed hopes of aspirants like former employees union leader Srinivas Goud, currently an MLA from Mahbubnagar, and Jalagam Venkat Rao, legislator from Kothagudem, by announcing that they will soon be made "parliamentary secretaries" along with two or four more legislators.
Similarly, five or six MLAs will be appointed as chairpersons of various government corporations.