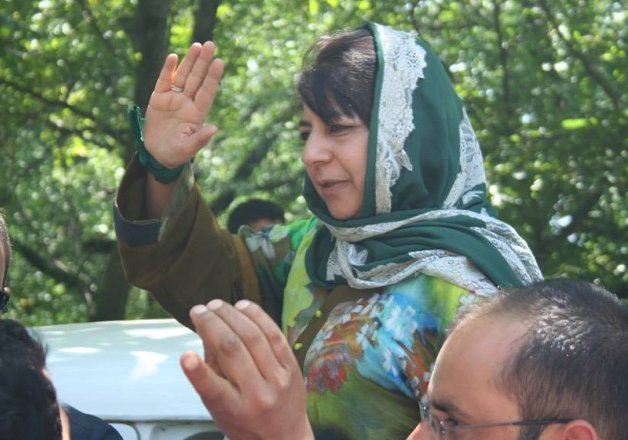 Jammu/New Delhi: A day after its general secretary Ram Madhav held one on one talks with Peoples Democratic Party (PDP) president Mehbooba Mufti, the Bharatiya Janata Party (BJP) has expressed optimism that the government formation in Jammu and Kashmir will take place 'shortly'.
"Absolutely we feel that the government formation (in Jammu and Kashmir) will take place in the shortest possible time and the government will be formed that will take steps for creating good atmosphere," state BJP president Sat Sharma said on Thursday evening.
While terming the meet between Madhav and Mufti a 'positive step towards the formation of the government', he said, "Ram Madhav met Mehbooba Mufti and they held discussions, which is a positive step towards the formation of the government and the formation would take place."
On the reported demands of fresh Confidence Building Measures (CBMs) by the PDP leadership, the BJP state president said that the government formation would be as per the 'Agenda of Alliance'.
"As far as the CBMs are concerned the Agenda of Alliance is there and all discussions will go as per them," he said.
"I could not hold detailed talks with Ram Madhav but definitely, the Agenda of Alliance would be taken into consideration and as per it (government formation would take place)," he added.
Following the death of her father Mufti Mohammad Sayeed on January 7, Mehbooba Mufti had openly talked of the need for the Centre to initiate some political and economic measures to 'build trust'. The party has maintained that these are not demands or pre-conditions but measures that both parties had agreed to in their 'Agenda of Alliance', the document that was supposed to guide the coalition government when it was formed.
But BJP leaders said that the party leadership has decided to reject some key PDP demands such as talks with Kashmiri separatists, withdrawing the AFSPA from some districts, and asking the armed forces to vacate land occupied by them.
"I feel (in) Jammu and Kashmir peace would be restored and good development atmosphere will be created that is why BJP wants a good government (in the state)," the BJP leader said.
According to reports, two senior PDP leaders are expected to reach Delhi to take the talks forward. However, the date of the PDP leaders' arrival is yet to be decided.
Reports suggest that the two parties will form government before March 1, the day Mohammad Sayeed was sworn-in as the head of the coalition last year. Also the PDP chief is expected to meet Prime Minister Narendra Modi and BJP president Amit Shah before taking oath as chief minister.
The state has been under President's Rule since January 8.