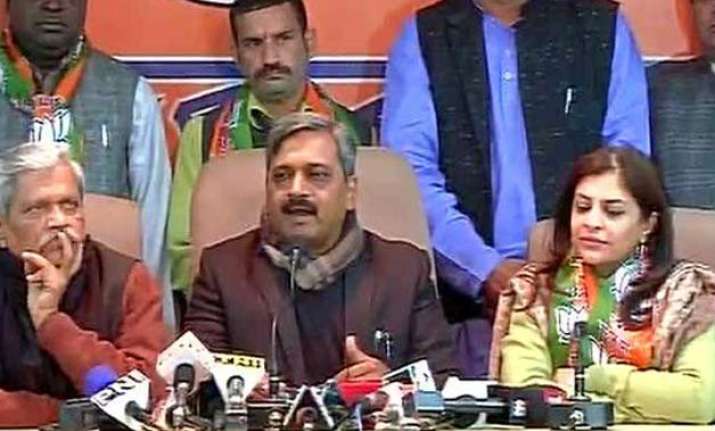 New Delhi: Former AAP leader Shazia Ilmi today joined Bharatiya Janta Party (BJP) in the presence of state president Satish Upadhyay and senior BJP leader Prabhat Jha.
Welcoming Shazia into the party fold, Delhi BJP president Satish Upadhyay expressed the hope that her induction will further strengthen the party.
"We welcome Shazia Ilmi ji to BJP, your presence will further strengthen the party," said Upadhyay.
After joining the party, Shazia said, "I have been a former AAP, there have been several reasons why I left AAP and why AAP left me."
"There is new political discourse in the country and we all must be a part of it," said Shazia.
When asked if she would be contesting upcoming Assembly elections, Shazia answered in the negative.
"I don't want to contest elections, I just want to serve the people," said Shazia.
She hoped that the party will respect her decision of not contesting Assembly elections.
"Will go by what party decides,but I think the party will respect my choice of not contesting Delhi polls," said Shazia.
Earlier, Shazia met BJP president Amit Shah this morning and is believed to have discussed her role in the party in upcoming Assembly elections in Delhi.
The BJP expects that Shazia's induction, just after Kiran Bedi joined the party on Thursday, will further boost the party's prospects in the upcoming Assembly elections.
 
Yesterday, Shazia had made it clear that she will campaign against AAP to expose the party. She had given enough hints of joining BJP although she stopped short of making the announcement.
 "I will be campaigning against AAP, want to expose AAP for what it is, will do whatever I can to that effect", Shazia Ilmi said while talking to reporters yesterday.
Shazia on Wednesday had denied media reports that she will be contesting against Arvind Kejriwal from New Delhi Assembly constituency as a BJP candidate.
In a late night tweet, Ilmi said, "I am not contesting from New Delhi or elsewhere, calm down folks."
Earlier, Kejriwal had told reporters at a press conference that, "She (Ilmi) is a citizen of this country and is free to contest from anywhere she wants."
But hours after the press meet, Kejriwal took a swipe at Ilmi by re-tweeting one of her tweets, dated November 21, 2013 titled 'Hypocrisy, thy name is BJP'.
Ilmi, who was in AAP at that time, criticises the BJP and the Congress over its funding in the tweet.
She had contested the 2013 Assembly polls from RK Puram and lost by a slender margin.
AAP then wanted to pit her against Congress president Sonia Gandhi, but she refused. Rejecting her demand to contest from Delhi, she was finally fielded from Ghaziabad, from where she suffered a drubbing.
Ilmi quit the party lashing out at a "coterie" surrounding Kejriwal just days after the party faced a drubbing in the Lok Sabha polls.
The former AAP leader also participated in Delhi BJP's 'Swachch Bharat Abhiyaan', but did not join the party.
Satish Upadhyay also announced the induction of Bollywood music director Anand Raj Anand into the party.